Baby acne normally clears up after a few weeks so treatment isn't often neccessary. As a baby's skin is very delicate, traditional acne treatments will do more harm than good. If your infants acne doesn't clear up after 3 months you should seek advice from a doctor.
What is baby acne?
Baby acne is a skin condition common amongst newborn babies and infants. Some children are born with it, but in most cases the condition appears after several weeks. Baby acne typically shows up on the nose, cheeks and temples of the child, but it can also be present on the forehead, chin and back. The condition can look sore and unpleasant, but it rarely troubles the infant.
What are the symptoms of baby acne?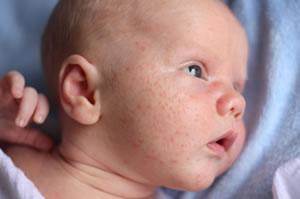 The symptoms of baby acne are small whiteheads and red pimple-like bumps across the affected areas. These symptoms can become more pronounced if the child is hot or fussy or if their skin is aggrevated by external irritants.
What causes baby acne?
As with adult acne, the main cause of infant acne is unknown. Many belive that it is due to a sensitivity to the maternal hormones experienced during pregnancy. Other factors being considered are the mothers diet during pregancy and breast-feeding, and the possible effects of any medicated taken during the same period.
How do I treat baby acne?
Baby acne usually clears up by itself after a few weeks. Cases that last longer than 3 months should always be referred to a doctor or health care professional.
Traditional
acne treatments
are formualted with adults and adolescents in mind, they are much too strong for a babies skin and will only do more harm than good. Putting any cream or ointment on your child's skin runs the risk of making the acne worse. It's best to be patient and wait for the condition to clear by itself. This is easier said than done, however. Some people do choose to use
Sudocrem
in such situations, but we do recommend that you speak with your family doctor first.
If the redness and irritation on your baby's skin has a rash-like appearance or scaling or flaking are present, then it is likely your child is suffering from another skin condition. Cradle cap (infant seborrhoeic dermatitis) and infant eczema are other common skin complaints amongst young children. If unsure please check with your doctor.