Regaine Foam - the new treatment from the makers of
Regaine
. Regaine Foam is applied with the fingers, which many find more convenient than using the applicator that comes with the liquid version of Regaine.
Only suitable for men aged between 18-49 years.
Does Regaine Foam work?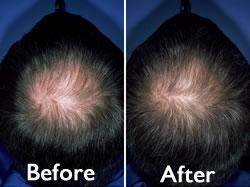 Any medication isn't guaranteed to work for everyone, but a large clinical trial has shown that 9 out of 10 men said they kept or re-grew hair.
How long does Regaine Foam take to work?
Hair growth is a slow process, so most men need to use Regaine Foam twice daily for at least 8 weeks before they see new hair growth.
Does Regaine cause hair loss?
This is untrue. Men using Regaine Foam may shed some hair in the first 2-3 weeks, but this is a sign that the regaine is working, as it means the hair follicles are being stimulated to grow new hair.
How long should I use Regaine Foam?
Once regrowth has begun, you need to continue using Regaine Foam twice a day to maintain this growth. If you have noticed no results within 16 weeks, treatment should be discontinued.
How long does each 60g can of Regaine Foam last?
Each 60g can should last for 30 days if applied twice a day as instructed.
What will happen if I miss a dose?
For maximum results, Regaine Foam should be applied twice a day. If you miss a dose, don't worry, just carry on as normal, don't apply twice as much on the next application or apply twice as frequently.
Do I need to wash or wet my hair before application?
No, it is very important to make sure Regaine Foam is applied to dry hair, so there is no need to wash or wet hair before application.
Can I still use a hairdryer?
Yes, but not to dry the foam itself.
Can I use hair styling products while using Regaine Foam?
Yes, but allow Regain Foam to dry fully before applying these other products.
Can I dye my hair while using regaine Foam?
Yes, there is no need to change your haircare routine.