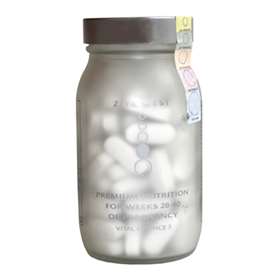 Click on image to enlarge



Price: £17.65 (incl VAT)
(Buy any 2 or more Zita West products and save 5%)
Price: £17.65 (incl VAT)
(Buy any 2 or more Zita West products and save 5%)
Premium Pregnancy Nutrition For Weeks 13-28 of Pregnancy

Zita West Vital Essence 3 is a specially designed formula to help meet all the needs in the 3rd trimester and to help you keep as fit and healthy as possible in preparation for labour, birth, and breast-feeding. In the third trimester your blood volume increases by 40 percent, your pelvic joints expand and your breast tissue develops. Your baby is also growing faster than at any other time in your pregnancy, doubling in size, increasing nerve cells, strengthening bones, maturing lungs, immune system and digestive tract, and laying down stores of fat, Iron, and Calcium. Brain cells are multiplying faster than at any other time in his or her life. Zita West Vital Essence 3 will help you and your body during this time of pregnancy, supplying all the most important nutrients your body needs to help prepare you for labour.
90 capsules.
1 months supply.
Vitamins and minerals for the third trimester (28-40 weeks)
Full of the most important nutrients needed.
Helps keep you as fit and healthy as possible in preparation for labour.
Your baby grows faster than at any other time in your pregnancy.
Free from artificial colours, preservatives, gluten and yeast.
Non-GM.
Zita West Vital Essence 3 contains increased levels of Calcium, to help with muscle growth and nerve and muscle functions, and increased levels of Magnesium to help support the development of the liver and heart and with the metabolism of protein. Most of a baby's Calcium is deposited in this trimester as his or her bones and teeth harden. The foetus takes up Calcium at the rate of approximately 350mg a day during this stage of the pregnancy, so it is good to have a plentiful supply to prevent it being taken from your own skeleton.

Zita West's Vital Essence 3 also contains Phosphorus to help with skeletal growth and the proper functioning of cell membranes. There is also plenty of Iron, to help with the manufacture of red blood cells in preparation for the birth, and good levels of Vitamin D and Vitamin B3. Choline is included to help with the production of healthy cell membranes, as well as Iodine, Co Q10 and Folic Acid. The formula also contains Beta Carotene, to help protect against possible Vitamin A deficiency and cell mutation, plus a wide range of other ingredients, such as Lutein, Lycopene, Alpha-Lipoic Acid and Pomegranate and Grapeskin Extracts, to help protect against free-radical damage to cells.

During the last trimester of pregnancy, the baby goes through a period of intense development called the brain spurt. At this time, your baby's brain will take up 70% of your calorie intake and demand for DHA is greater than ever. Zita West strongly recommends that Vital Essence 3 should be taken in conjunction with VitalDHA. All Zita West products are developed in response to the very latest research and are regularly reviewed and reformulated to remain at the cutting-edge of clinical and nutritional thinking for optimum reproductive health.

Directions For Use:
Take one tablet, three times a day with food.
Should only be taken on a full stomach.
Do not exceed the recommended intake.
Food supplements should not be used as a substitute.
For optimum results use with Zita West VitalDHA.

Suitable for vegetarians.

Caution:
Derived from Soya: Vitamin E (D-Alpha Tocopheryl Acetate), Soya Oil, Natural Mixed Tocopherols If under medical supervision, seek guidance from your medical practitioner before using this product.


| Ingredients | Per 3 Capsules | RDA % |
| --- | --- | --- |
| Vitamin D (1000iu) | 25ug | 500 |
| Vitamin E 18iu | 12mg TE | 100 |
| Vitamin K | 100ug | 133 |
| Vitamin C | 180mg | 225 |
| Thiamin (Vitamin B1) | 10mg | 909 |
| Riboflavin (Vitamin B2) | 10mg | 714 |
| Niacin (Vitamin B3) | 36mg NE | 225 |
| Vitamin B6 | 10mg | 714 |
| Folic Acid | 400ug | 200 |
| Vitamin B12 | 20ug | 800 |
| Biotin | 200ug | 400 |
| Pantothenic Acid (Vitamin B5) | 25mg | 416 |
| Calcium | 500mg | 62.5 |
| Phosphorus | 250mg | 35 |
| Magnesium | 250mg | 66 |
| Iron | 21mg | 150 |
| Zinc | 15mg | 150 |
| Copper | 1000ug | 100 |
| Manganese | 1mg | 50 |
| Selenium | 100ug | 181 |
| Chromium | 20ug | 50 |
| Iodine | 220ug | 146 |
| Beta Carotene | 4mg | - |
| Lutein | 1mg | - |
| Lycopene | 1mg | - |
| Inositol | 10mg | - |
| Coenzyme Q10 | 18mg | - |
| Choline Bitartrate | 80mg | - |
| Alpha Lipoic Acid | 33mg | - |
| N-Acetyl Cysteine | 50mg | - |
| Pomegranate extract | 60mg | - |
| Grapeskin extract | 25mg | align="center">- |

Ingredients:
Dicalcium Phosphate, Microcrystalline Cellulose, Magnesium Citrate, Magnesium Oxide, Calcium Citrate, Calcium Carbonate, Anti-caking agents: Silica, Magnesium Stearate; Vitamin C (as Ascorbic Acid), Crosslinked Cellulose Gum, Stabilisers: Acacia Gum, Hydroxpropyl Methyl Cellulose; Ferrous Fumerate, Pomegranate Extract, N-Aacetyl Cysteine, Zinc Citrate, Modified Tapioca Starch, Niacin (as Nicotinamide), Alpha Lipoic Acid, Pantothenic Acid (as Calcium Pantothenate), Colour: Titanium Dioxide; Grapeskin Extract, Coenzyme Q10, Vitamin E (D-Alpha Tocopheryl Acetate)1, Olive Oil, Vitamin B6 (as Pyridoxine Hydrochloride), Thiamine (as Hydrochloride (Vitamin B1)), Inositol, Riboflavin (Vitamin B2), Manganese Gluconate, Soya Oil 1, Glycerin, Beta Carotene, Copper Citrate, Sunflower Oil, Sucrose, Corn Starch, Lycopene, Lutein, Folic Acid, Potassium Iodide, Antioxidants: Natural Mixed Tocopherols 1, Ascorbyl Palmitate; Biotin, Sodium Selenite, Vitamin K (as Phylloquinone), Chromium Chloride, Vitamin D (as Cholecalciferol), Vitamin B12 (as Cyanocobalamin).





Product code: ZW-007
Price: £17.65 (incl VAT)
(Buy any 2 or more Zita West products and save 5%)