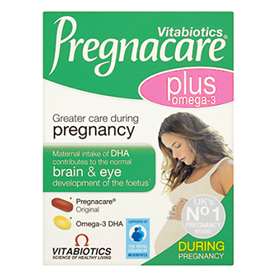 Click on image to enlarge



Price: £11.25 (incl VAT)
(Buy any 3 or more Pregnacare products and save 5%)
Price: £11.25 (incl VAT)
(Buy any 3 or more Pregnacare products and save 5%)
Pregnacare Plus Omega-3
contains 28 Pregnacare prenatal tablets with 400mcg of folic acid and 28 high purity omega-3 capsules with DHA.
The Pregnacare Plus omega-3 provide great care through all of your pregnancy and breast-feeding. The Pregnacare brand are supported by The Royal College of Midwives. Pregnacare Plus combines the original Pregnacare tablet formula, the leading supplement in pregnancy care, with high quality Omega-3 (DHA 300mg) capsules in a convenient 2-in-1 pack. Pregnacare Plus has been carefully developed to help safeguard dietary requirements, from pre-conception, during pregnancy and through to the end of breast-feeding.
You can start taking Pregnacare Plus at any point during your pregnancy.
Pregnacare multi-nutrient tablets
provide a wide range of essential vitamins and minerals including the extract recommended level of 400ug folic acid and 10ug vitamin D. See the
complete nutritional content
here.
Includes folic acid, vitamin B12 and zinc to support neural tube development.
Moderate iron as well as B vitamins for blood formation.
For both mother and baby at this nutritionally demanding time.
Pharmaceutical grade tablets produced in Britain.
High Purity Omega-3 DHA capsules provide 300mg of DHA (Docosahexaenoic acid), the level recommended by international experts.
DHA plays an essential role in the healthy development of the brain, nervous system and eyes in the foetus and newborn infant.
Pregnacare Plus is also ideal during breast-feeding.
Sourced from the purest pharmaceutical grade fish oil, produced in Norway.
The capsules are free from artificial colours, preservatives, salt, yeast, gluten and lactose. Pregnacare do not test on animals.

Because pregnacare tablets have been specially formulated by experts for pregnancy, it contains certain nutrients at levels above the RDA (recommended daily allowance). All ingredients are amounts within safe levels for pregnancy. To protect your growing child, Pregnacare, avoids excessive levels of iron and other nutrients. It does not contain vitamin A, as high levels are not advised in pregnancy. If you require an additional calcium supplement during your pregnancy,

Osteocare Tablets

also made by Vitabiotics, would be adviseable.



Directions:
One tablet (GREEN BLISTER PACK) per day. One capsule (PINK BLISTER PACK) per day. Swallow each with a glass of water or a cold drink and take with a main meal. Not to be chewed. Do not exceed recommended intake. To be taken on a full stomach.

Pregnacare Nutritional Information

| Typical Values | % RDA | Per Tablet |
| --- | --- | --- |
| Vitamin D | 200 | 10.0µg |
| Vitamin E | 33 | 4mg α-TE |
| Vitamin C | 88 | 70mg |
| Thiamin (Vitamin B1) | 273 | 3mg |
| Riboflavin (Vitamin B2) | 143 | 2mg |
| Niacin | 125 | 20mg NE |
| Vitamin B6 | 714 | 10.0mg |
| Folic Acid (Folacin) | 200 | 400µg |
| Vitamin B12 | 240 | 6µg |
| Biotin | 300 | 150µg |
| Pantothenic Acid | 100 | 6.0mg |
| Vitamin K | 93 | 70µg |
| Selenium | 55 | 30.0µg |
| Iron | 121 | 17mg |
| Magnesium | 40 | 150mg |
| Zinc | 150 | 15.0mg |
| Copper | 100 | 1000µg |
| Natural Mixed Cartenoids | - | 2mg |
Omega 3 Nutritional Information
| Typical Values | % RDA | Per Capsule |
| --- | --- | --- |
| Total Omega 3 | * | 600mg |
| DHA (Docosahexaenoic acid) | * | 300mg |
| EPA (Eicosapentaenoic acid) | * | 60mg |
Product code: 3225869
Price: £11.25 (incl VAT)
(Buy any 3 or more Pregnacare products and save 5%)