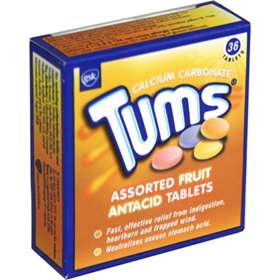 Click on image to enlarge
| | |
| --- | --- |
| Price: £2.09 (incl VAT) | Sorry, this product is no longer available. |
Tums Fruit Antacid Tablets x 36 provide effective relief from indigestion, heartburn, trapped wind and neutralise excess stomach acid.
36 tablets.
Neutralise excess stomach acid.
Provides relief from trapped wind indigestion and heartburn.
Ingredients:
Each Tums Fruit Antacid Tablet contains Calcium Carbonate 500mg.

Each tablet also contains: Dextrose, Maize Starch, Microcrystalline Cellulose, Magnesium Stearate and Sodium Saccharin.

Flavours:
Blackcurrant, Cherry, Lemon and Orange.

Colours:
Patent Blue V (E131), Ponceau 4R (E124), Quinoline Yellow (E104) and Sunset Yellow (E110).

Directions for Use:
Adults and children 12 years and over: Suck or chew 1 to 2 tablets when needed, up to a maximum of 16 tablets (7 if you are pregnant) in 24 hours.

Cautions:
Do not take Tums Fruit Antacid Tablets if you have ever had an allergic reaction to calcium carbonate or to any of the other ingredients listed above.

Do not take Tums if you:
are under 12 years of age.
are on a low phosphate diet.
have kidney or thyroid problems.
have a high blood calcium level.
have Zollinger-Ellison Syndrome.
are taking heart tablets called cardiac glycosides (e.g. digoxin).
Always read the instructions thoroughly before taking Tums Fruit Antacid Tablets.
If you take too many tablets, contact your doctor or casualty department.