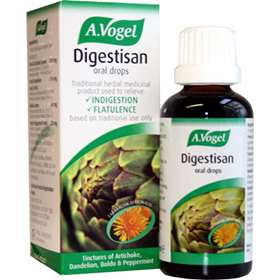 Click on image to enlarge



Price: £7.90 (incl VAT)
(Buy any 3 or more A. Vogel products and save 5%)
Price: £7.90 (incl VAT)
(Buy any 3 or more A. Vogel products and save 5%)
A. Vogel Digestisan 50ml is a traditional herbal medicinal product for indigestion and flatulence relief.
50ml oral drops.
Traditional herbal medicine.
Contains ethanol.
Does not require special storage conditions.
A. Vogel Digestisan can relieve feelings of fullness associated with food and drink over-indulgence.

Directions for use:
Take 15-20 drops in a little water three times daily.

Precautions:
Not for use in children or those under 18.
For oral use only.
Do not use Digestisan if you are allergic to any of the ingredients, plants of the daisy family or menthol.
Do not use if you are pregnant or breastfeeding. Contains ethanol.

Ingredients:
Artichoke Leaves Tincture, Dandelion Root and Herb Tincture, Boldo Leaves Tincture, Peppermint Herb, Ethanol.


Product code: 40506
Price: £7.90 (incl VAT)
(Buy any 3 or more A. Vogel products and save 5%)