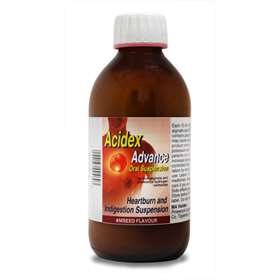 Click on image to enlarge



Price: £3.05 (incl VAT)
Sorry, this item is currently unavailable. Click here to receive notification when this product comes back into stock.
An aniseed flavoured suspension for the relief of reflux acid.

Acidex Advance Oral Suspension helps to relieve and prevent the symptoms of acid reflux. Helps relieve symptoms from conditions such as a inflamed oesophagitis, hoarse or other voice disorders, sore throat, cough, indigestion and heartburn.

Acidex Advance Oral Suspension contains active ingredients sodium alginate and potassium hydrogen carbonate to keep food and stomach acid away from the oesophagitis lining preventing acid reflux.
250ml bottle also available in 500ml.
Prevents and relieves acid reflux, heartburn and indigestion.
Aniseed Flavour.
Directions for Use:
Suitable for adults and children over the age of 12.
Take 5-10ml orally after meals and before bedtime.
If taking other medication consult a medical profession before taking this product.
Leave 1-2 between taking Acidex Advance Oral Suspension and any other medication.
Shake bottle well before use.

*Please read attached leaflet carefully before taking this product.*

Cautions:
Keep out of sight and reach of children.
Contains parahydroxybenzoates (paraben, E214, E216) which may cause allergic reaction (possibly delayed).
If in a controlled sodium or calcium diet or on drugs to increase potassium level take Acidex Advance Oral Suspension into consideration.
Side effects are occasional, see leaflet for more information.
Do not refrigerate, freeze or use after expiry date shown on bottle.

Ingredients:
10ml of Acidex Advance Oral Suspension contains sodium alginate (1000mg), potassium hydrogen carbonate (200mg), parahydroxybenzoates (paraben, E214, E216), sodium (5.1mmol), potassium(2mmol).