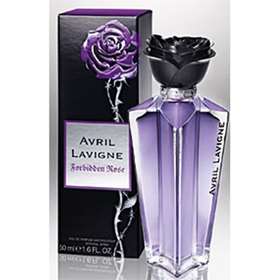 Click on image to enlarge



Price: £ (incl VAT)
Sorry, this item is currently unavailable. Click here to receive notification when this product comes back into stock.
Another scent from Avril Lavigne aimed at the teen market, Forbidden Rose gives a fragrance which is pretty, yet simple in it's accords. Delivered in a bottle that would be at home on the dressing table of a young 'emo chick', the motif of a black rose (a symbolic emblem of fantasy) interplays with barbed wire to give something dark yet visually attractive, comparable to characterisations in the 'Twilight' series so popular with young girls.

Forbidden Rose is a more introspective fragrance compared to its predecessor Black Star, with a continuing accent of peach weaving between the note sections, a muted pink floral heart and a pallid almond/vanilla base, giving you something curiously unique.

Laid-back and unassuming in appeal, Forbidden Rose can be thought of as a wholly appropriate scent for younger girls aspiring to wear something trendy and is particularly well-suited to short autumnal days.

We have Forbidden Rose available as an eau de parfum in 30ml and 50ml bottles and in a fragrance gift set combining a 30ml perfume bottle with a 50ml body lotion.

Please follow the links below to purchase.

Please note: Due to transport legislation, we cannot ship more than 4 fragrances per order. Our perfume orders work on a back-order system that might take up to 7 days. If you have an urgent request, please contact us prior to ordering.