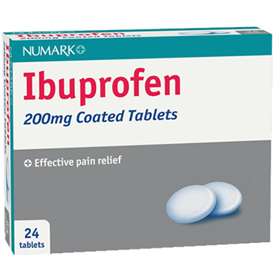 Click on image to enlarge



Price: £0.89 (incl VAT)
Sorry, this item is currently unavailable. Click here to receive notification when this product comes back into stock.
Numark Ibuprofen 200mg Tablets (24) general relief from pain associated from muscle and rheumatic pain, backache,, migraine and headache, toothache, period pains and symptoms of cold and flu.Ibuprofen Tablets provide effective relief of pain.
200mg Ibuprofen.
Relieves mild and moderate pain.
24 Tablets.
An anti-inflammatory in joints and muscles.
Migraines and tension headaches.

Direction for Use: Tablets should be swallowed with a glass of water, preferably with or after food. Adults, the elderly and children over 12 years: 1 or 2 tablets to be taken up to 3 times a day as required. Do not take more often than every 4 hours. Do not take more than 6 tablets in 24 hours. Do not give to children under the age of 12. Consult your doctor before taking if you have any medical conditions or if you are taking any prescribed medicines. Consult your doctor if you are pregnant or breast-feeding.

This product is intended for short term use only. You should take the lowest dose for the shortest time necessary to relieve your symptoms. You should not take Ibuprofen tablets for longer than 10 days unless your Doctor advises you to.If symptoms persist or worsen consult your Doctor.

Cautions and Warnings: Adhere to the recommended dosage. Keep out of sight and reach of children.

Ingredients: Each Tablet contains 200mg Ibuprofen.

Other Ingredients: Colloidal Anhydrous Silica, Starch, Povidone, Microcrystalline Cellulose, Alginic Acid, Magnesium Stearate, Sodium Lauryl Sulphate, Sodium Starch Glycollate, Croscarmellose Sodium.

Coating Ingredients: Contains PVAP Sealcote, Purified Talc, Sucrose, Calcium Carbonate, Acacia, Titanium Dioxide (E171) Carnauba Wax.

Do not store above 25°