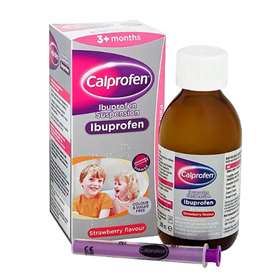 Click on image to enlarge



Price: £5.25 (incl VAT)

Calpol Ibuprofen Suspension is a strawberry flavoured, ibuprofen liquid suspension that works to reduce fever and relieve mild to moderate pain in both babies and children.
200ml liquid in a glass bottle.
Strawberry flavour.
Reduces fever.
Provides effective pain relief.
Suitable for babies from 3 months.
Colour and sugar free.
Measuring spoon included.
Also available in a smaller 100ml bottle.
Calprofen Colour and Sugar Free Ibuprofen Suspension is suitable for using to relieve fever and raised temperature, post immunisation fever, earache, headache, teething and toothache, colds and influenza symptoms and minor muscular aches and pains, sprains and strains.

Directions for use:
For oral use only. Shake the bottle well before use and do not overfill the spoon. Follow dosage guidelines below and do not exceed stated dose.

Post-immunisation fever: One small spoonful (2.5ml), followed by another small spoonful (2.5ml) six hours later if necessary. Do not give more than 2 doses in 24 hours and if the fever is not reduced you should consult your doctor.

For pain and fever relief:

| CHILD'S AGE | DOSE |
| --- | --- |
| Babies under 3 months | Not recommended |
| 3 months - 6 months (weighing over 5kg) | One small (2.5ml) spoonful may be taken 3 times in 24 hours. |
| 6 months - 12 months | One small (2.5ml) spoonful may be taken 3 times a day |
| 1 year - 2 years | One small (2.5ml) spoonful may be taken 3 to 4 times a day |
| 3 years - 7 years | One large (5ml) spoonful 3 to 4 times a day |
| 8 years - 12 years | Two large (5ml) spoonful 3 to 4 times a day |

Doses should usually be given every 6-8 hours, leave at least 4 hours between doses.
Do not give to babies aged 3-6 months for more than 24 hours.
For short term use only.

If symptoms persist consult your doctor.



In the event of an overdose, immediate medical advice should be sought after, even if the child seems well.

Do not give your child this medicine if they have ever had a reaction to any of the ingredients or if they are taking any other NSAID painkillers, or aspirin with a daily dose above 75mg.

Warnings:
Keep out of sight and reach of children.
Always read the label/leaflet.
Keep the cap securely engaged at all times.
DO NOT EXCEED STATED DOSE.
For oral use only.
Not suitable for children under 3 months.
Always use the spoon provided.
Consult doctor before use if your child is taking any other medicines.
Speak to a doctor before use if your child has/had asthma, high cholesterol, high blood pressure, a stroke, heart, liver, kidney or bowel problems.
Store in the original packaging.
Do not store above 25°C.

Ingredients:
Active ingredients: ibuprofen 100 mg per 5 ml.
Other ingredients: glycerol (E422), xanthan gum, maltitol (E965), polysorbate 80, saccharin sodium (E954), citric acid monohydrate, sodium methylhydroxybenzoate (E219), sodium propylhydroxybenzoate (E217), purified water.




| | | | | |
| --- | --- | --- | --- | --- |
| Product code: 3222502 | | Price: £5.25 (incl VAT) | | |