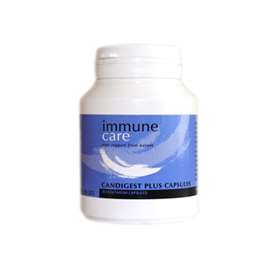 Click on image to enlarge
| | |
| --- | --- |
| Price: £11.99 (incl VAT) | Sorry, this product is no longer available. |
Immunecare Candigest Plus Capsules 30 is a natural support for yeast management. If you suffer from abdominal pain, gas, bloating, indigestion, bad breath, skin rashes, allergies, muscle aches, cold hands and feet, thrush, depression, irritability and difficulty in concentrating then you may have candida overgrowth.
30 capsules.
Allergen-free.
Suitable for vegans and vegetarians.
Free from GMOs.
Immunecare Candigest Plus helps maintain the natural balance in the stomach.

Directions for use:
Take two Immunecare Candigest Plus capsules (one hour before breakfast) and two at bedtime (at least two hours after eating), with a large glass of tepid water until desired results are achieved.
Thereafter, for continuing maintenance, one capsule at bedtime.

Precautions:
Not suitable for those suffering from ulcerative colitis, Crohn's Disease or gastritis.

Ingredients:
Cellulase, Protease, Hemicellulase Amylase, Invertase, Malt Diatase, Glucoamylase, Microcrystalline Cellulose.