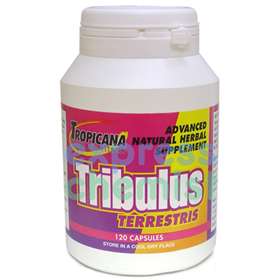 Click on image to enlarge



Price: £16.69 (incl VAT)
Sorry, this item is currently unavailable. Click here to receive notification when this product comes back into stock.
Please Note: This product is currently unavailable from Express Chemist, please click here to view a suitable alternative.
Tropicana Tribulus Terrestris x 120
Contains 250mg Tribulus Terrestris.
Advanced natural herbal supplement.
Helps to increase testosterone production naturally.
Suitable for Vegrtarians.


Tribulus Terrestris helps to elevate testosterone levels both safely and effectively by increasing the luteinizing hormone levels. By doing so, this amplifies the release of testosterone, which maximises the body's natural propensity for growth.

Suggested use:
- Up to 60kgs - 2 capsules
- Between 60-90kg - 3 capsules
- Over 90kgs - 4 capsules
Take your suggested dose twice daily with meals.

Ingredients: Tribulus Terrestris 50mg • Vegetable capsule shell • cellulose • calcium phosphate • silicea & magnesium stearate.