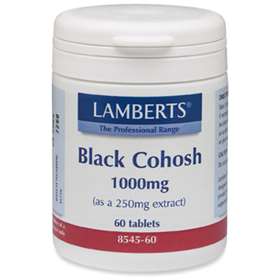 Click on any image to enlarge



Price: £10.99 (incl VAT)
Sorry, this item is currently unavailable. Click here to receive notification when this product comes back into stock.
Due to the new EU Herbal Legislation, Lamberts Black Cohosh will not be licensed and therefore can no longer be sourced from Lamberts as of the 30th April 2011. However, it will continue to be available through Express Chemist, whilst stock last.

Black Cohosh was traditionally used by Native Americans as a herbal remedy for Women's health. Today it is becoming increasingly popular for its ability to reduce menopausal symptoms, particularly hot flushes. It is also believed to help raise serotonin levels in the brain, which can help to improve ones mood and reduce mild levels of depression and anxiety.


A grey/green oval coated tablet.
60 tablets.


Can help reduce menopausal symptoms.
Helps to balance hormones.
Aids in improving your mood and general well being.
A high potency and high quality natural herb supplement.


Black Cohosh might also be used to ease mild cases of rheumatic and arthritic pain and to help treat non-severe cases of high blood pressure, tinnitus, asthma and whooping cough.

Black Cohosh (Cimicifuga racemosa), also known as black snakeroot, is a member of the buttercup family and has feathery flowers and distinct black rhizomes and roots. The most talked about compounds found in Black Cohosh root and rhizome extracts are a group of natural materials called triterpene glycosides, sometimes referred to as saponins. Good quality extracts are frequently standardised with respect to these materials, since they are 'markers' both for potency and consistency.

Lamberts Black Cohosh is a high potency extract, equivalent to 1000mg of Black Cohosh, with a guaranteed level of 6.25mg of triterpene glycosides.

Dosage:
1 tablet daily. If necessary, a second tablet can be taken with a subsequent meal.

Disintegration Time: Less than 1 hour.

Suitable for vegetarians.

Caution: This product is not recommended for pregnant or lactating women.

Caution:
Black Cohosh may rarely cause liver problems. If patients become unwell (yellowing eyes/skin, nausea, vomiting, dark urine, abdominal pain, unusual tiredness) they should stop taking it immediately and seek medical advice.

Caution:
Not suitable for patients with a previous history of liver disease.

Ingredients per tablet:
Black Cohosh (as 250mg of a 4:1 extract) 1000mg providing Triterpene gylcosides 6.25mg. Tableted with: DiCalcium Phosphate, Cellulose, Titanium Dioxide, Hydroxypropyl Methylcellulose, Crosslinked Cellulose Gum, Stearic Acid, Silicon Dioxide, Magnesium Stearate, Glycerin, Iron Oxides, Copper Chlorophyllin.