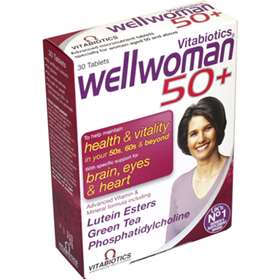 Click on image to enlarge



Price: £7.45 (incl VAT)

Wellwoman 50 + Tablets 30 from Vitabiotics, is specifically designed to help safeguard the special nutritional needs of women aged 50 or above. 50 + contains a comprehensive range of nutrients and trace elements, including antioxidants, lutein and vitamin D3 to support key areas of health important to women over 50.
30 Tablets.
Formulated for the safeguard of special nutritional needs in women aged 50 and above.
Helps maintain health and vitality, with specific support to the brain, eyes and heart.
Provides an ideal and balanced palette of micronutrients, specifically formulated for post menopausal women.
Contains and advanced vitamin and mineral formula.
No artificial colours or preservatives.
Gluten free.
Benefits of 50 + Brain: Folic Acid (found in bread, certain cereals and green leaf vegetables) are known to improve mental performance in women over the age of 50. 50 + contains a blend folic acid and B vitamins that maintain efficient functioning of brain cells and a healthy nervous system.

Heart + Circulation: 50 + combines green tea extract, vitamins B6 and B12, which may help to maintain the health of the heart and circulation. Antioxidants such as Alpha lipoic Acid and Green Tea are known to protect against the damaging effects of free radicals. Folic Acid and the B vitamins can help to ensure a healthy heart and assist in the formation of red blood cell's.

Active Lifestyle: 50 + contains B vitamins and L-carnitine that aids the body in releasing energy from food efficiently. Consistent exercise is good for the heart as it boosts circulation and the supply of vital nutrients to the brain. Exercise also improves your sense of emotional well-being.

Eyesight: Cellular damage and deterioration in vision can occur as you get older. 50 + contains a combination of nutrients for eye health including, lutein, zinc, vitamin C and natural mixed carotenoids. Together these provide antioxidant support as well as helping to maintain visual health.

Ingredients:
Bulking Agents: Maltodextrin and Microcystalline Cellulose, Vitamin C (Ascorbic Acid), Magnesium Oxide, Zinc Sulphate, Niacin (as Nicotinamide), Phosphatidylcholine, Ferrous Fumarate, Thiamin (Vitamin B1 Mononitrate), Anti-Caking Agents: Stearic Acid, Silicon Dioxide and Magnesium Stearate, Vitamin E (D Alpha Tocopheryl Acid Succinate), Green Tea Extract, Alpha Lipoic Acid, Citrus Bioflavonoids, Vitamin B6 (Pyridoxine HCI), L-Carnitine Tartrate, Natural Mixed Carotenoids (Betacarotene, Modified Starch, Corn Starch, Glucose Syrup, Anti-Oxidants: DL-Alpha Tocopherol, Sodium Ascorbate), Lutein Esters, Pantothenic Acid (as Calcium Salt), Vitamin D (Cholecalciferol Acacia, Sucrose, Corn Starch, Medium Chain Triglycerides, Antioxidant: DL-Alpha Tocopherol), Riboflavin, Copper Sulphate, Co-Enzyme Q10, Manganese Sulphate, Sodium Selenate, Folacin (as Folic Acid), Chromium Trichloride, Biotin, Vitamin B12 (Cyanocobalamin).

**The benefits of the ingredients in 50 + are thought to build over time. A regular course is therefore recommended**

Directions for Use:
Take one Wellwoman 50 + Tablet per day with your main meal. Swallow with water or a cold drink.
Do not chew or take on an empty stomach.

Cautions:
Do not exceed the recommended intake.
Consult professional advice before use if you are pregnant, breast-feeding, under medical supervision or suffer from food allergies.
50 + must not replace a varied and balanced diet and healthy lifestyle.
50 + should not be taken on an empty stomach.
Store below 25C in a dry place.
Keep 50 + out of the sight and reach of children.





| | | | | |
| --- | --- | --- | --- | --- |
| Product code: 3289873 | | Price: £7.45 (incl VAT) | | |