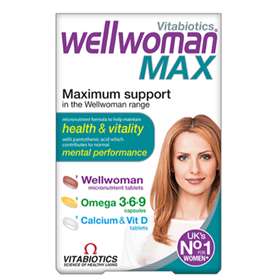 Click on image to enlarge



Price: £16.20 (incl VAT)

Vitabiotics Wellwoman Max provides maximum support due to the specific nutrients and minerals selected because of their benefits to female health. Wellwoman Max contains a micronutrient formula to help maintain health and vitality and pantothenic acid which contributes to normal mental performance.

This pack contains 3 different tablets.
28x Wellwoman micronutrient tablets.
28x Omega 3-6-9 Capsules.
28x Calcium &Vitamin D Tablets.
Each one having their own unique cocktail of vitamins to provide you with as many nutrients as possible.

28x Wellwoman micronutrient tablets:
Each advanced Wellwoman micronutrient tablet provides 28 specially selected micronutrients including:
B-vitamins: Thiamin (vit. B1), B6 and B12 which contribute to normal energy release.
Zinc and iron which contribute to normal cognitive function.
Vitamin D, Folic Acid and Mineral Selenium which contribute to the normal function of the immune system.
Also includes Co-Q10, Guarana and green tea extracts.

28x Omega 3-6-9 Capsules:
Evening primrose oil, starflower oil, fish oil, olive oil.
Wellwoman max uses only the highest quality marine and plant oil.
Each 3-in-1 capsule provides:
Omega-3:: from high purity fish oil.
Omega-6: from evening primrose oil and starflower oil.
Stringent quality control and certification of every batch ensures the highest standards of purity.

28x Calcium &Vitamin D Tablets:
Ensuring an adequate daily of calcium in combination with Vitamin D is vital for women of all ages:
Calcium is needed to maintain normal bones and teeth.
Vitamin D contributes to the normal absorption and utilisation of calcium.
Advanced micronutrient tablets with omega 3-6-9 capsules plus calcium & vitamin D tablets.

No preservatives
No artificial colours
Gluten free.
No salt or yeast.
Wellwoman is not tested on animals.

Caution:
Food supplements must not replace a varied and balanced diet and a healthy lifestyle.
As with other food supplements, seek medical advice if you are under medical supervision, pregnant, breastfeeding, suffers from food allergies, or are allergic to any of the ingredients.

As wellwoman contains Vitamin K, if you are taking oral anticoagulents (e.g. Warfarin) do not take these tablets except on the advice of your doctor. Vitamin K is not known to specifically interact with the action of aspirin or herparin.

Wellwomen should not be taken on an empty stomach.
This product contains iron, which if taken in excess, may be harmful to very young children.
Store below 25°C in a dry place, out of sight and reach of children.

Wellwoman Max Tablet Ingredients:
Bulking Agent, Microcrystalline Cellulose, Magnesium Oxide, Vitamin C (Asocorbic Acid Hydroxypropylmethylcellulose) Tablet Coating (Ethyl Cellulose, Hydroxypropylmethylcellulose, Propylene Glycol, Hydroxypropylcellulose, Natural Source Colours Dioxisde, Iron Oxide Red), Polyvinylpolyprrolidone, L-Carnitine Tartrate, Niacin (as Nicotinamide), Ferrous Fumarate, Zinc Sulphate, L-Methionine, Pregelatinised Starch, N-Acetyl Cysteine, Vitamin E (D Alpha Tocopheryl Acid Succinate) (From Soya), Anti-Caking Agents: Stearic Acid, Magnesium Stearate, Sillicon Dioxide & Purified Talc, Guarana Extract, Thiamin (Vitamin B1 as Monotrate), Citrus Bioflavonoids, Ethyl Cellulose, Vitamin B6 (Pyridoxine HCI), Natural Mixed Carotenoids (Betacarotene, Starch, Water, Anti-Oxidant: DL-Alpha Tocopherol), Pantothenic Acid (as Calcium Salt), Vitamin D3 (Chloecalciferol Maltodextrin Medium Chain Triglycerides, Colloidal Anhydrous Silica, Purified Talc, Butylated Hydroxyanisole, Ethyl Cellulose), Potato Starch, Maganese Sulphate, Vitamin B12 (Cyanocobalmin Dibasic Calcium Phosphate) Riboflavin, Green Tea Extract, Copper Sulphate, Vitamin K (Phytomenadione Acacia Gum, Glucose Syrup, Tricalcium Phosphate), Co-Enzyme Q10, Folic Acid (as Pteroylmonoglutamic Acid), Chromium Trichloride, Sodium Selenate, Potassium Iodide, Biotin.

Omega-3-6-9 Capsule Ingredients:
Omega-3 Fish Oil (from Fish), Capsule Shell (Pharmaceutical Grade Gelatin, Glycerin, Natural Orange Flavour), Evening Primrose Oil, Starflower Oil, Olive Oil (EP Grade), Vitamin E (DL-Alpha Tocopheryl Acetate).

Calcium Tablet Ingredients:
Calcium Carbonate, Bulking Agents: Microcrystalline Cellulose & Dibasic Calcium Phosphate, Potato Starch, Tablet Coating (Hydroxypropylmethylcellulose, Propylene Glycol, Titanium Dioxide, Purified Talc), Anti-Caking Agents: Magnesium Stearate & Purified Talc, Polyvinylprrolidone, Vitamin D (Cholecalciferol Maltodextrin, Medium Chain Triglycerides, Colloidal Anhydrous Silica, Purified Talc, Butylated, Hydroxyanisole, Ethyl Cellulose)





| | | | | |
| --- | --- | --- | --- | --- |
| Product code: 3944006 | | Price: £16.20 (incl VAT) | | |