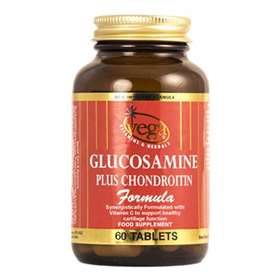 Click on image to enlarge
| | |
| --- | --- |
| Price: £13.99 (incl VAT) | Sorry, this product is no longer available. |
This Vega formulation contains a combination of natural nutrients Glucosamine Sulphate 500mg Chondroitin Sulphate 400mg, Vitamin C and Manganese, which have become increasingly popular for joint health.
Glucosamine and Chondroitin are found occurring naturally in the body and are major building blocks of complex proteins called Glycosaminoglycans, which forms part of the structure of connective tissue, such as cartilage, ligaments and tendons.
Chondroitin may maintain cartilage function as it holds water and nutrients and also allows other molecules to move through the cartilage. This may be an important function as cartilage does not have it?s own blood supply. Vitamin C and Manganese are essential antioxidant co-factors that may play an important role in the formation, maintenance and renewal of connective tissue.
Possesses anti-inflammatory properties.
Glucosamine helps build and repair cartilage that connects the joints.
Dairy free.
Free From: Artificial additives, colours, flavours and preservatives.
Directions for use:
As a food supplement Adults: One to two capsules daily with food or as directed by a healthcare professional.

Allergen Information: From Shellfish

Nutritional information:

| | | |
| --- | --- | --- |
| One tablet typically provides: | | %RDA* |
| Glucosamine Sulphate2K CI: | 693mg | † |
| Providing Glucosamine Sulphate: | 500mg | † |
| Chondroitin Sulphate: | 400mg | 15 |
| Vitamin C: | 12mg | 15 |


Other Ingredients:
Hydroxypropyl Methylcellulose, Corn Starch, Sodium Starch Gylollate, Microcrystalline Cellulose, Ascorbic Acid, Polyvinyl Pyrrolidone, Magnesium Stearate, Colour (Titanium Oxide), Glycerin.

*RDA(Recommended daily allowance)
†No RDA established