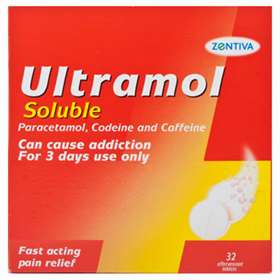 Click on image to enlarge



Price: £4.20 (incl VAT)
Sorry, this item is currently unavailable. Click here to receive notification when this product comes back into stock.
Due to the Codeine ingredient contained within the formulation of this medication - the Pharmacist requires photographic identity confirmation.

Would you please therefore forward a scanned copy of either your driving license or passport upon ordering


Ultramol Soluble Tablets for the relief of moderate to strong pain including: migraine, headache, rheumatic pain, period pain, toothache and neuralgia. Ultramol is also used for the relief of symptoms associated with colds, influenza and sore throat, including relief of feverishness.
Contains Paracetamol Ph.Eur 500mg, caffeine Ph.Eur 30mg and Codeine Phosphate Ph Eur.8mg.
Sodium content 362mg per tablet.
Not recommended for children under 12.
Dosage:
Adults dosage:
Two tablets up to four times a day if required.

Children over 12 dosage:
Two tablets up to four times a day if required

Directions of Use:
Tablets should be dissolved in water before swallowing.
Do not take more frequently than every 4 hours and do not exceed 4 doses in any 24 hour period