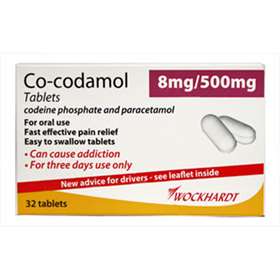 Click on image to enlarge



Price: £3.40 (incl VAT)
Sorry, this item is currently unavailable. Click here to receive notification when this product comes back into stock.
Due to the Codeine ingredient contained within the formulation of this medication - the Pharmacist requires photographic identity confirmation.

Would you please therefore forward a scanned copy of either your driving license or passport upon ordering


Co-Codamol Paracetamol & Codeine Caplets 32 Containing in each taplet: 500mg Paracetamol and 8 mg Codeine Phosphate.
Formulated for the short term treatment of pain, reaching pain where other pain killers have not been effective. For the pain relief of headache, migraine, toothache, period pains, muscle pain and backache.
Adults, the elderly and children over 12 years: Take ONE to TWO caplets.
The dose should NOT be repeated more frequently than at 4 hour intervals.
NOT more than 4 times in any 24 hour period.
Maximum dose 8 caplets in any 24 hour period.

Direction for Use: Do not exceed the stated dose.

Cautions and Warnings:
If you need to take this medication for more than three days you must seek further consultation with your Doctor or Pharmacist. Contains Paracetamol: Do not take with any other paracetamol products. Immediate medical advise should be sought in the event of an overdose, even if you feel well.

Ingredients:
This medication contains Codeine which can cause addiction if you take it continuously for more than three days. If you take this medication for headaches for more than three days it can make them worse.