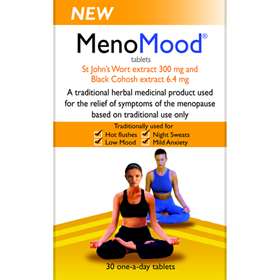 Click on image to enlarge



Price: £11.95 (incl VAT)
Sorry, this item is currently unavailable. Click here to receive notification when this product comes back into stock.
Schwabe MenoMood Menopause Mood Relief Tablets 30 is a herbal medicinal product that helps by relieving the symptoms of menopause. MenoMood is traditionally used for hot flushes, nights sweats, mild anxiety and low moods.
Relieves mild anxiety and night sweats.
Relief from menopause symptoms.
Herbal Medicinal product.
Contains St John's Wort extract - 300mg.
Directions of use: For oral use only. Take one tablet daily. Tablets should be taken at the same time of the day if possible.

Cautions: Do not exceed stated dose. Do not use if you are under the age of 18, are pregnant/breastfeeding or of child bearing potential unless contraception is used or is you are allergic to any of the ingredients. Do not take MenoMood if you have ever had an oestrogen dependent tumour or had liver/kidney problems. Keep out of sight and reach of children.

St Johns Wort containing products must not be used at the same time as medicines including: Prescription medicines, Hormonal contraceptives and some non prescription medicines. Please read enclosed patient leaflet before taking this product.

Active Ingredients: Each coated tablet contains 300mg of extract (as dry extract) from St Johns Wort aeiral parts (hypericum perforatum L.) (3.5-6:1) (equivalent to 1050-1800mg extract) from black cohosh rhizome and root (Cimincifuga racemosa (L.) nutt.) (4.5-8.5:1) (eqivalent to 28.80-54.40mg of black cohosh), extraction solvent Ethanol 60% v/v. This product contains lactose monohydrate, glucose and sucrose.