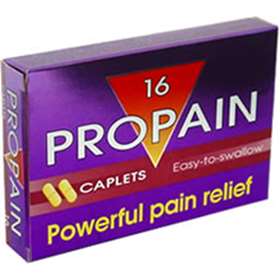 Click on image to enlarge



Price: £3.26 (incl VAT)
Sorry, this item is currently unavailable. Click here to receive notification when this product comes back into stock.
Propain Caplets - Easy-to-swallow - Contains Paracetamol, Diphenhydramine, Caffeine and Codeine.

Provides relief from:
Propain's easy to swallow caplets are a powerful combination analgesic that offers fast, effective, multi-symptom relief from a migraine. The Propain formula contains four main active ingredients.

Paracetamol and Codeine Phosphate which get straight to work on your thumping headache / pain.

Caffeine which works hard to speed up the analgesics.

Diphenhydramine Hydrochloride tackles the nausea and vomiting.
Directions for Use: One or two caplets every 4 hours as necessary. Do not exceed 8 tablets in 24 hours.

Ingredients: Paracetamol BP 400mg, Codeine Phosphate BP 10mg, Diphenhydramine Hydrochloride BP 5mg and Caffeine BP 50mg. Methyl, ethyl, propyl and butyl parabens as preservative.

Please Note: Due to MHRA regulations we can only despatch one box of Codeine-containing products at a time. Multiple orders will not be accepted. Codeine should not be taken for longer than 3 days as this can cause addiction. If you are still experiencing pain after 3 days of using Codeine please see your doctor.