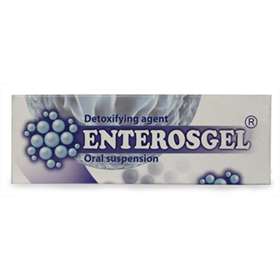 Click on image to enlarge



Price: £10.79 (incl VAT)

An innovative intestinal absorbent (enterosorbent), developed for binding toxins, harmful substances, pathogens and allergens in the gastrointestinal tract and their elimination from the body.

The main clinical effects of Enterosgel:

Mitigates or prevents toxic and allergic reactions.
Helps stop diarrhea or shortens the duration of diarrhea.
Relieves symptoms of indigestion (dyspepsia).
Accelerates the elimination of alcohol from the body.
Helps restore beneficial intestinal microflora.
Protects gastrointestinal mucous membrane and promotes healing of lesions.
Reduces the toxic load on the liver and kidneys.
Dosage:
It is recommended to take Enterosgel at the first signs of illness.
1-2 hours before or after a meal.
Adults:
15g or 1 tablespoon 3 times per day.
Children:
Older than 5 years 10-15g or 2-3 teaspoons 3 times per day.
1-5 years: 5-10g or 1-2 teaspoons 3 times per day.
Under 1 year of age: 1,7g or 1/3 teaspoon before feeding, up to 6 times per day.

Composition:
Polymethylsiloxane Polyhydrate (methylsilicic acid hydro-gel) - 70%, Water Purified - 30%.







| | | | | |
| --- | --- | --- | --- | --- |
| Product code: 3926466 | | Price: £10.79 (incl VAT) | | |