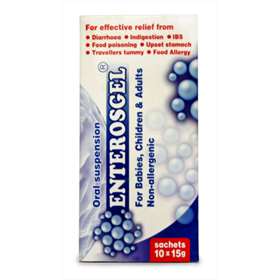 Click on image to enlarge



Price: £15.99 (incl VAT)

Enterosgel is an innovative intestinal adsorbent (enterosorbent), developed for simple and effective cleansing of the gut from toxins, viruses, allergens, pathogens and other harmful substances. Enterosgel is hydrophobic and does not remove water or vitamins, does not stay in the body and is completely excreted within 12-24 hours.

What enterosgel does:
Helps to stop diarrhoea or shortens the duration of diarrhoea.
Helps to reduce or prevent toxic and allergic reactions.
Relieves symptoms of indigestion.
Helps to restore beneficial intestinal microflora.
Helps to detoxify the body, reducing the toxic load on liver and kidneys.
Please read enclosed leaflet thoroughly before use.

Directions for Use:
Enterosgel is easy to take and has no taste.
Simply dilute in 100 ml of water or other liquid of room temperature and drink 1-2 hours before or after a meal.

Ingredients:
70% Polymethylsiloxane polyhydrate, 30% Purified water.





| | | | | |
| --- | --- | --- | --- | --- |
| Product code: 3926482 | | Price: £15.99 (incl VAT) | | |