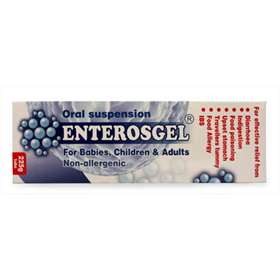 Click on image to enlarge



Price: £16.50 (incl VAT)

Enterosgel works like a clever 'sponge' gently passing through the gut. It absorbs viruses, bacterial toxins, allergens and pathogens - possible causes of diarrhoea, indigestion, food poisoning, food allergy or travellers tummy. Enterosgel removes them within 12-24 hours with your normal bowel movement, thus stopping the progress of the disease.

For effective relief from:

Diarrhoea.
Indigestion.
Food poisoning.
Upset stomach.
Travellers tummy.
Food allergy.
IBS.
Directions for Use:
Enterosgel is easy to take and has no taste.
Simply shake the tube well before use, dilute in 100ml of water or other liquid of room temperature and drink 1-2 hours before or after a meal.

What Enterosgel does:

Helps to stop diarrhoea or shortens the duration of diarrhoea.
Helps to reduce or prevent toxic and allergic reactions.
Relieves symptoms of indigestion.
Helps to restore beneficial intestinal microflora.
Protect the intestinal wall to promote healing.
Helps to detoxify the body, reducing the toxic load on the liver and kidneys.
Dosage:
Children 3-5 years old: 1-2 teaspoons or 5-10g 3 times a day.
Children 5 and over: 2-3 teaspoons or 10-15g 3 times a day.
Adults 1 tablespoon or 15g 3 times a day.

For babies and children under 3 Enterosgel can be used under advice of a doctor. The single dose for babies under 1 is 1/3 of a teaspoon up to 6 times a day.
The single dose for 1-3 years old is 1/2-1 teaspoon up to 3 times a day.

In case of acute diarrhoea the single dose can be doubled. If symptoms of diarrhoea continue for more than 48 hours, consult with your GP or Pharmacist.

In case of food poisoning, take double dose and seek medical help.

Free from:
Preservatives, colouring, gluten, fat, sugar, lactose, flavours and sweeteners.
Vegan friendly.

Storage:
Store at 4-25 degrees, do not freeze.
Avoid drying after opening.
Use within 30 days after opening.

Ingredients:
Enterosgel is based on minerals.
70% Polymethylsiloxane polyhydrate, 30% Purified water.







| | | | | |
| --- | --- | --- | --- | --- |
| Product code: 3926474 | | Price: £16.50 (incl VAT) | | |