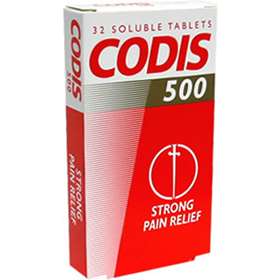 Click on image to enlarge



Price: £4.45 (incl VAT)

Codis 500 soluble tablets contain 8mg of codeine, which in combination with the aspirin 500mg, is effective at relieving mild to moderate pain such as headache, migraine, neuralgia, toothache, period pains, sprains, strains, rheumatic pain, sciatica, lumbago, fibrositis, muscular aches and pains, joint swelling and stiffness, colds, influenza and feverish conditions.

Codis 500 at a glance
Dispersible tablet containing Aspirin 500mg, Codeine phosphate 8mg.
For mild to moderate pain including headache, migraine, neuralgia, toothache, period pains, sprains, strains, rheumatic pain, sciatica, lumbago, fibrositis, muscular aches and pains, joint swelling and stiffness, colds, influenza and feverish conditions.
Adults: 1-2 tablets in water every 4 hours as required. Maximum 8 tablets in 24 hours.
Children: not to be given except on medical advice.
Please Note: Due to MHRA regulations we can only despatch one box of Codeine-containing products at a time. Multiple orders will not be accepted. Codeine should not be taken for longer than 3 days as this can cause addiction. If you are still experiencing pain after 3 days of using Codeine please see your doctor.




| | | | | |
| --- | --- | --- | --- | --- |
| Product code: COD222J | | Price: £4.45 (incl VAT) | | |