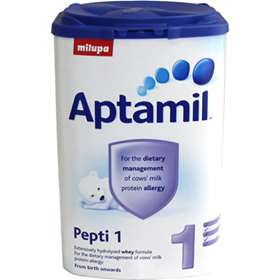 Click on image to enlarge
| | |
| --- | --- |
| Price: £23.99 (incl VAT) | Sorry, this product is no longer available. |
Aptamil 1 Pepti 1 (From Birth) 900g is suitable for use from birth and should be used under medical supervision. Aptamil 1 Pepti 1 is a food for special medical purposes for the dietary management of cows milk protein allergy and has been specifically developed for bottlefed babies.

CMPA (cows milk protein allergy) affects around 2-7.5% of infants but by the age of three, most will grow out of it. Symptoms can be hard to identify, but warning signs can include facial swelling, frequent vomiting, regurgitation, diarrhoea, constipation, eczema or respiratory problems like a chronic cough or runny nose. If your baby has any of these symptoms and has not been diagnosed with CMPA, you should ask your healthcare professional for advice.
900g.
1 scoop = 4.5g.
80-85% short chain peptides and 15-20% amino acids.
For the dietary management of CMPA.
Can also be used to replace cows milk in drinks and cooked dishes.
Extensively hydrolysed whey formula, for better palatability.
Nutritionally complete from birth.
Unique GOS/FOS blend (0.8g/100ml).
LCPs (Omega 3 and 6).
Nucleotides.
Suitable from birth onwards.
Aptamil 1 Pepti 1 contains the same unique blend of GOS/FOS prebiotics as our other milks but it is an extensively hydrolysed formula, which means the cows milk protein has been broken down, making it easier for babies to tolerate and digest, whilst providing them with all the nutrition they need.

Ingredients:
Hydrolysed whey protein concentrate*, Maldodextrin, vegetable oils, galacto-oligosaccharides* (GOS), emulsifier (citric acid ester of mono-& diglycerides), fructo-oligosaccharides (FOS), calcium phosphate, potassium chloride, fish oil, magnesium chloride, sodium citrate, calcium carbonate, vitamin C, choline chloride, taurine, ferrous sulphate, inositol, zinc sulphate, uridine-5-monophosphate sodium salt, cytidine-5-monophosphate, vitamin E, adenosine-5-monophosphate, inosine-5-monophosphate sodium salt, l-carnitine, nicotinamide, pantothenic acid, guanosine-5-monophosphate sodium salt, biotin, copper sulphate, folic acid, vitamin A, vitamin B12, thiamin, riboflavin, vitamin D3, vitamin B6, manganese sulphate, potassium iodide,vitamin K1, sodium selenite. Contains: *Milk, fish.

Directions for Use:
**Always use the quantity of Aptamil 1 Pepti 1 advised by your doctor or dietician**
Wash hands and sterilise all untensils according to the manufacturers instructions.
Boil freshly run water. Leave kettle to cool for 30 minutes. Do not use artificially softened or repeatedly boiled water.
Measure the required amount of water (refer to the feeding guide) into a sterilised beaker. Do not add powder to boiling water due to risk of scalding.
Using the scoop provided, level off the powder with the built in leveller. Do not press/heap the powder.
Add one scoop to every 30ml (1 fl oz) of boiled cooled water. Add the correct number of scoops to the water. Adding too many or too few scoops can be harmful.
Mix well (for 10 seconds) to dissolve powder. Replace lid on beaker.
Cool under running tap. Check temperature of feed. Feed immediately.
Make each feed as required. For hygiene reasons, do not store made up feeds, discard unfinished feeds as soon as possible, and always within one hour.

Cautions:
Aptamil 1 Pepti 1 (From Birth) 900g should only be used under medical supervision, after full consideration of the feeding options available including breastfeeding. Do not heat feeds in a microwave, hot spots may occur and cause scalding. Never add extra scoops or anything else to your baby's feed. Aptamil 1 Pepti 1 is suitable for use as the sole source of nutrition for infants, and as a principle source of nourishment with other foods for children. Not suitable for parenteral use.

Good dental hygiene is important for infants and children as prolonged or frequent contact of drinks and feeds with teeth increases the risk of tooth decay. Because Pepti 1 is a special dietary food, the taste, smell and appearance will differ from a standard infant formula. Never leave your baby alone during feeding.