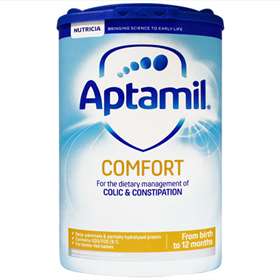 Click on image to enlarge



Price: £14.55 (incl VAT)

Aptamil Comfort (From Birth) 800g is a nutritionally complete formula that your baby can stay on until they are 12 months old. If your baby has been diagnosed with colic or constipation by a doctor, switching to Aptamil Comfort can be done quickly, allowing the benefits of its gentler formula.

Aptamil Comfort is nutritionally tailored with a unique blend of GOS/FOS prebiotics, easy digestible fats and proteins with reduced lactose which helps reduce soften stools, gas and other intestinal discomfort.
800g.
Easy to digest.
For the dietary management of colic and constipation.
Nutritonally complete.
Partially hydrolysed protein.
Thicker consistency to prevent baby from taking in too much air.
Contains less than 40% of the lactose in standard infant milks.
Specially formulated fat blend.
Unique blend of GOS/FOS prebiotics.
LCPs (Omega 3 and 6).
Nucleotides.
Developed by experts with 40 years experience in nutrition.
Aptamil Comfort 800g now also contains long chain polyunsaturated fatty acids (LCPs) from the omega-3 and omega-6 groups, which means that bottlefed babies suffering from colic and constipation can get the benefits of LCPs right up to the age of one year.

Aptamil Comfort may affect your baby differently to other milks. After first use, you might notice your baby has increased wind and/or stools that are loose and greenish in colour. These effects are harmless and are a sign that your baby's digestive system is getting used to the milk

Directions for Use:
Aptamil Comfort (From Birth) 800g has a thicker texture than most other milks. Aptamil recommend either a variable flow teat, or a single hole teat, with a medium or fast flow.
Wash hands and sterilise all untensils according to the manufacturers instructions.
Boil freshly run water. Leave kettle to cool for 30 minutes. Do not use artificially softened or repeatedly boiled water.
Measure the required amount of water (refer to the feeding guide) into a sterilised beaker. Do not add powder to boiling water due to risk of scalding.
Using the scoop provided, level off the powder with the built in leveller. Do not press/heap the powder.
Add one scoop to every 30ml (1 fl oz) of boiled cooled water. Add the correct number of scoops to the water. Adding too many or too few scoops can be harmful.
Mix well (for 10 seconds) to dissolve powder. Replace lid on beaker.
Cool under running tap. Check temperature of feed. Feed immediately.
Make up each feed as required. For hygiene reasons, do not store made up feeds, discard unfinished feeds as soon as possible, always within two hours.

Cautions:
Aptamil Comfort is a food for special medical purposes for bottle fed babies, and should be used under medical supervision, after full consideration of the feeding options available including breastfeeding.
Comfort is suitable for use as the sole source of nutrition for infants from birth, and as part of a balanced diet for babies from 6-12 months.
Aptamil Comfort is not suitable for parenteral use.
When bottle feeding do not allow prolonged or frequent contact of milk feeds with your baby's teeth as this increases the risk of tooth decay.
Ask you health professional or dentist for advice.
Make sure your baby's teeth are cleaned after the last feed at night.

Ingredients:
Hydrolysed whey protein concentrate (from milk), Vegetable oils (structured vegetable oil, rapeseed oil, coconut oil, single cell oil, sunflower oil), Glucose syrup, Starch (potato, maize), Galacto-oligosaccharides (GOS) (from milk), Lactose (from milk), Fructo-oligosaccharides (FOS), Potassium di hydrogen phosphate, Calcium chloride, Fish oil, Sodium chloride, Vitamin C, L-tyrosine, Choline chloride, Taurine, Inositol, Iron sulphate, Zinc sulphate, Uridine 5' -monophosphate sodium salt, Cytidine 5' -monophosphate, Vitamin E, Adenosine 5'-monophosphate, Inosine 5' -monophosphate sodium salt, L-carnitine, Nicotinamide, Guanosine 5'-monophosphate sodium salt, Pantothenic acid, Emulsifier (soy lecithin), Biotin, Folic acid, Copper sulphate, Vitamin A, Riboflavin, Thiamin, Vitamin D3, Vitamin B6, Manganese sulphate, Potassium iodide, Vitamin K1, Sodium selenite. Contains: Milk, fish, soya.


| Nutritional Information | Typical values per 100ml prepared feed |
| --- | --- |
| Major Nutrients | |
| Energy | 275kJ |
| | 66kcal |
| Protein | 1.5g |
| Carbohydrate | 7.2g |
| of which sugars | 3.3g |
| of which lactose | 2.7g |
| Fat | 3.4g |
| of which saturates | 1.5g |
| of which unsaturates | 1.9g |
| of which LCPs | 0.020g |
| of which Docosahexenoic acid | 0.006g |
| of which Arachidonic acid | 0.011g |
| Fibre | 0.6g |
| Salt | 0.05g |
| Vitamins | |
| Vitamin A | 50µg (RE) |
| Vitamin D3 | 1.2µg |
| Vitamin E | 0.74mg (α-TE) |
| Vitamin K1 | 4.1µg |
| Vitamin C | 9.3mg |
| Thiamin (B1) | 0.05mg |
| Riboflavin (B2) | 0.1mg |
| Niacin (B3) | 0.85mg NE |
| Vitamin B6 | 0.04mg |
| Folic Acid | 9.3µg |
| Vitamin B12 | 0.14µg |
| Biotin | 2.1µg |
| Pantothenic Acid | 0.36mg |
| Minerals | |
| Sodium | 20mg |
| Potassium | 75mg |
| Chloride | 41mg |
| Calcium | 49mg |
| Phosphorus | 27mg |
| Magnesium | 5.5mg |
| Iron | 0.54mg |
| Zinc | 0.49mg |
| Copper | 0.04mg |
| Manganese | 0.008mg |
| Fluoride | <0.006mg |
| Selenium | 1.6µg |
| Iodine | 12µg |
| Others | |
| L-carnitine | 1mg |
| Choline | 10mg |
| Taurine | 5.3mg |
| Inositol | 3.7mg |
| Nucleotides | 3.2mg |
| Osmolarity | 220mOsmol/l |
| Osmolarity | 245mOsmol/kgH2O |
| | | | | |
| --- | --- | --- | --- | --- |
| Product code: 4074290 | | Price: £14.55 (incl VAT) | | |