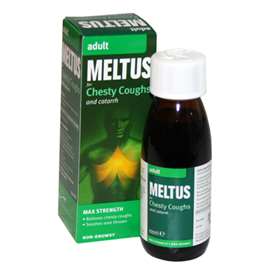 Click on image to enlarge
| | |
| --- | --- |
| Price: £3.79 (incl VAT) | Sorry, this product is no longer available. |
Adult Meltus Expectorant for Chesty Coughs is a maximum strength formula which provides relief from chesty coughs, sore throats and catarrh.


100ml glass bottle.

Non-drowsy.

Contains Guaiphenesin 100mg, Cetylpyridinium Chloride 2.5mg, Sucrose 1.75g and Purified Honey 0.5g.

Suitable for adults and children aged 12 years and over.

Soothes a sore throat, relieves chesty coughs and loosens mucus.

Adult Meltus Expectorant not only relieves a chesty cough but also soothes sore throats. It works by loosening mucus in the bronchial tubes, the warming vapours help to clear catarrh.

Directions for Use: One or two 5ml spoonfuls to be taken and swallowed every three or four hours. Not suitable for children under 12 years of age.

Ingredients: Guaifenesin, Cetylpyridinium, Chloride, Sucrose, Purified Honey, Glycerin, Alcohol (96%), Aniseed Oil, Menthol crystals, Chloroform, Caramel (E150), Glucose Liquid, Purified Water.