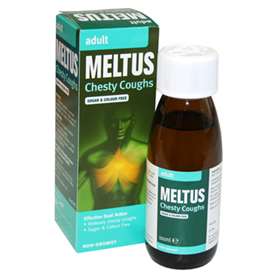 Click on image to enlarge



Price: £2.99 (incl VAT)
Sorry, this item is currently unavailable. Click here to receive notification when this product comes back into stock.
Adult Meltus Chesty Coughs Sugar and Colour Free provides symptomatic relief from chesty coughs and catarrh associated with colds, flu and mild throat infections.


100ml glass bottle.

Effective dual action.

Relieves chesty coughs, catarrh and sore throats.

Sugar & colour free.

Non-drowsy.

Contains Guaiphenesin 100mg and Cetylpyridinium Chloride 2.5mg.

Adult Meltus Chesty Coughs Sugar and Colour Free loosens mucus in the bronchial tubes which aids a more productive cough. The antiseptic base soothes sore and mildly infected throats.

Directions for Use: Adults and children aged 12 years and over - One or two 5ml spoonfuls to be taken and swallowed slowly every three or four hours.

Ingredients: Guaiphenesin 100mg / 5ml, Cetylpyridinium chloride 2.5mg / 5ml, Glycerin, Alcohol, Menthol, Sorbitol Solution, Saccharin Sodium, Sodium Cyclamate, Povidone (Kollidon 90), Custard Flavour 510514E, Raspberry Flavour 500251E, Blackberry Flavour 500225E, Purified Water.