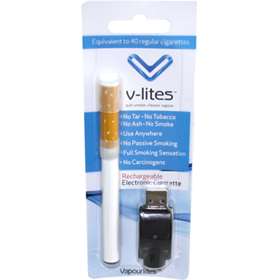 Click on image to enlarge



Price: £5.75 (incl VAT)
Sorry, this item is currently unavailable. Click here to receive notification when this product comes back into stock.
Vapourlites Electronic Cigarette Tobacco Flavour 11mg is a rechargeable e-cigarette that has the flavour and appearance of regular cigarettes but without tar, tobacco, ash, smoke or carcinogens. V-lites e-cigarette can help when stopping smoking.
Tobacco flavoured 11mg nicotine cartridge (cartomizer) included.
Full smoking sensation.
Rechargeable via USB.
Equivalent to 40 regular cigarettes.
Equivalent to 400 puffs of a cigarette per cartomizer.
No tar, tobacco, ash or smoke.
No carcinogens or passive smoking.
Lithium-ion rechargeable battery and USB charger included.
Tip flashes blue during inhalation if battery charge is needed.
Recharges normally in 2-3 hours.
Vapourlites Electronic Cigarette works by inhaling heated air and nicotine through the nicotine cartridge to give the same feeling and taste as smoking a normal cigarette. Unlike cigarettes, the V-lites e-cigarette can be inhaled a couple of times at leisure and then resumed later without using a full cartomizer.

Directions for use:
Inhale on the Vapourlites Electronic Cigarette slowly and steadily for at least 3-5 seconds for the best experience and sensation and retain the vapour for a couple of seconds before exhaling.
Inhale the vapour into your lungs or hold the vapour in your mouth, similar to the technique used to smoke.

Length and depth of inhalation from the Vapourlites Electronic Cigarette will affect the lifetime of the cartomizer.
Each cartomizer delivers an approximate maximum of 400 puffs based on an approximate 2 second inhale.
Inhaling for 3-5 seconds will provide a better smoking experience and effect but will reduce the lifespan.

Precautions:
Toxic if swallowed.
Very toxic in contact with skin.
Keep locked up and out of reach of children.
In case of accident or if you feel unwell, seek medical advice immediately.
Not to be sold to anyone under 18 years.

Ingredients:
Tobacco Extract Flavouring, Liquid Nicotine, Vegetable and Propylene Glycol.