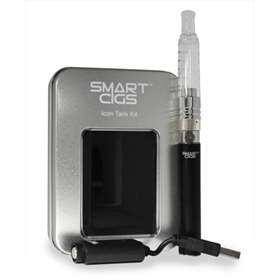 Click on image to enlarge



Price: £5.99 (incl VAT)

SmartCigs Icon Dual Coil Tank Kit - Red.

This SmartCigs Icon Dual Coil Tank Kit incorporates the latest technology to give improved vapour and flavour. With its large 2ml e-liquid capacity the ICON allows you to enjoy the full range of SmartJuice e-liquids providing total control over the enjoyment of vaping for longer before refilling. Concoct your favourite flavours by mixing the exciting range of tastes in a bursting array of cocktails. This exciting vaping Smartjuice solution allows you to tailor exactly the right strength and taste for you. Presented in a sleek Stainless Steel Box gives the edge of chic to a modern solution of e-smoking. They contain no tar, no carbon monoxide and none of the cancerous agents found in normal tobacco cigarettes.

ICON Dual Coil Tank 900mAh USB Charger:
This handy device fits into any standard USB port and contains an updated internal chip. It charges two times faster than before, and incorporates safety features to prevent overcharging.
A Green glow indicates it's fully charged.

Warning:
This USB Charger is intended for the use of the 900mAh tank battery only.

The 280mAh and 330mAh battery will not fit this device!

Clearomizer:
Icon Dual Coil e cig Clearomizer 2.0ml (1.6ohm)

These are fully compatible with your thread small compact battery. All you need to do is twist the small black mouth piece out and fill your SmartJuice down the sides of the mini tank. Leave for a few minutes to allow the wick to soak up the liquid and screw onto your thread battery.

SmartCigs Tank 900mAh Battery.
Content of battery: 900mAh
Charging Voltage: 3.7V-4.2V
Charge time: 3-4 hours
Battery Capacity: 16-24 hours
Life of battery: approx. 500 cycles/charges
The best e-cig battery
Warning: This battery is only compatible with SmartCigs 900mAh USB charger and should not be plugged into any wall plug or device that isn't a SmartCigs product.

Cautions and Warnings:
Improper handling of the batteries and chargers may present a risk of fire, explosion, or chemical burn. Store batteries and chargers on a cool dry place at normal room temperature. Do not leave batteries plugged in overnight.

Ingredients:
There is nothing in SmartCigs proprietary nicotine vapour that will clog or blacken your lungs. The nicotine vapour has three primary ingredients; water, nicotine, and propylene glycol (a common additive in food colouring and baking mixes).




| | | | | |
| --- | --- | --- | --- | --- |
| Product code: 6557292 | | Price: £5.99 (incl VAT) | | |