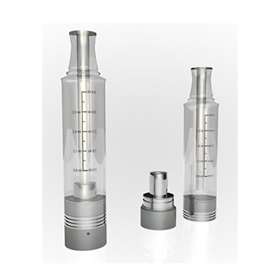 Click on image to enlarge



Price: £1.49 (incl VAT)

LSmartcigs Icon Dual Coil e cig Clearomizer 2.0ml (1.6ohm).
Colours may vary



Currently is truly one of the best Clearomizer available in the market today.The Icon is fully compatible with SmartCigs? Pro Tank Batteries, or any device with eGo/510 connection.
Capacity: 2.0ml.
No leaking.
Dual Coil (1.6ohm).
Delivers Flavour time after time
Atomizer is built to last
Replaceable wicks (heads) are available to avoid having to replace the whole unit.

How to Fill:
Unlike other e cig Clearomizers, the Icon is filled by turning it upside down and unscrewing the base at the bottom of the unit.
It holds up to 25% more liquid then the standard SmartCigs CE4 Clearomizer.
Once you have removed the bottom section of the Icon fill the clearomizer holding it is upside down taking care not get any liquid down the centre stem of the clearomizer.
When the liquid reaches the 2.0ml replace the bottom section and add engage onto the battery.
Make sure the atomizer head is screwed in firmly to the base.




| | | | | |
| --- | --- | --- | --- | --- |
| Product code: 6561740 | | Price: £1.49 (incl VAT) | | |