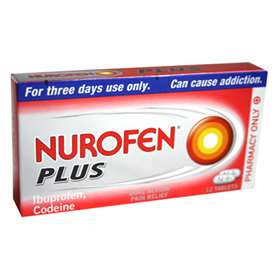 Click on any image to enlarge



Price: £2.99 (incl VAT)
Sorry, this item is currently unavailable. Click here to receive notification when this product comes back into stock.
Due to the Codeine ingredient contained within the formulation of this medication - the Pharmacist requires photographic identity confirmation.

Would you please therefore forward a scanned copy of either your driving license or passport upon ordering

This product is unavailable due to a product recall. If you would like to order a suitable alternative please click here
Nurofen Plus Tablets - Contains Ibuprofen 200mg and 12.8mg of Codeine - Maximum pain relief without a prescription.
Provides relief from:
Headaches.
Migraines.
Back pain.
Cramping period pain.
Muscular and rheumatic pain.
Neuralgia.
Dental pain.
Nurofen Plus works both at the site of pain and also reduces the body's response to pain signals. The Nurofen Plus formulation combines the active ingredients of Nurofen with the additional power of Codeine at the maximum dose allowed without a prescription.

Warnings:
Always read the label. Can cause addiction. For three days use only. You should not take Nurofen taplets if you - Have or have ever had a stomach ulcer, perforation or bleeding; Have breathing difficulties; Are allergic to ibuprofen, to any of the ingredients, or to aspirin or other painkillers; Suffer from severe liver, kidney or heart problems; Suffer from chronic constipation; Are taking other NSAIDs pain killers or aspirin with a daily dose above 75 mg. If you are on low-dose aspirin (up to 75 mg daily) speak to your doctor or pharmacist before you take the medicine; Are in the last 3 months of pregnancy.

Ingredients:
Ibuprofen Ph.Eur 200 mg, Codeine Phosphate Ph.Eur 12.8 mg, Microcrystalline Cellulose, Sodium Starch Glycollate, Pregelatinised Starch, Hypromellose,Itanium Dioxide (E171), Talc.

Please Note: Due to MHRA regulations we can only despatch one box of Codeine-containing products at a time. Multiple orders will not be accepted. Codeine should not be taken for longer than 3 days as this can cause addiction. If you are still experiencing pain after 3 days of using Codeine please see your doctor.