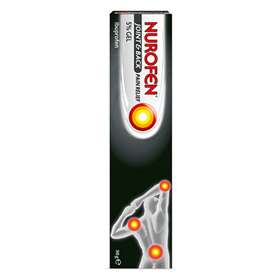 Click on image to enlarge



Price: £4.45 (incl VAT)
Sorry, this item is currently unavailable. Click here to receive notification when this product comes back into stock.
5% ibuprofen gel for the relief of:

Backache.
Muscular pain. Rheumatic pain.
Strains and sprains.
Sports injuries.
Directions:
For cutaneous use.
When first opening the tube: check that the seal is not broken. TO break the seal, press it against the point hidden in the top of the cap.
Adults, the elderly and children over 12 years old: Squeeze 4 to 10 cm of gel onto the affected area then replace the cap.
Gently rub in until it is absorbed- then wash your hands straight away.
This represents a dose of 50-125mg of ibuprofen.
Do not exceed the stated dose.
Do not apply it more than 4 times in 24 hours.
Do not reapply more gel within 4 hours.
Do not use it on broken or inflamed skin, on the lips or near eyes.
Store below 25°c.
Keep out of the sight and reach of children.
Do not use:
If you are sensitive to any of the ingredients, aspirin or any other pain relievers known as non-steroidal anti-inflammatory drugs (NSAIDs).
If you are under 12 years old.
Consult your doctor if you are pregnant, breastfeeding, asthmatic or are taking any regular medical treatment.
If symptoms persist for more than 7 days, or worsen at any time, consult your doctor or pharmacist.

Ingredients:
Ibuprofen 5% w/w, Purified water, Isopropyl alcohol, Hydroxyethylcellulose, Benzyl alcohol, Sodium hydroxide.