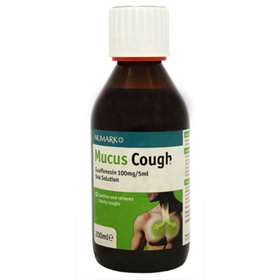 Click on image to enlarge



Price: £1.75 (incl VAT)
Sorry, this item is currently unavailable. Click here to receive notification when this product comes back into stock.
Numark Mucus Cough is taken to relieve chesty coughs.

Guaifenesin 100mg/5ml spoonful of oral solution.
Guaifenesin: Is an expectorant. It helps loosen congestion in your chest and throat.
Soothes and relieves chesty coughs.
Dosage:
Liquid for oral use:
Adults, the elderly and children over 12 years of age: take 5 to 10ml every two to three hours.
Not more than 4 doses should be given in 24 hours.
Do not take with any other cough and cold medicines.

Warnings:
Not recommended for children under 12 years.
Do not exceed the stated dose.
Do not use if you are allergic to any of the ingredients.

Pregnancy and breastfeeding.
Ask your doctor or pharmacist for advice before taking any medicine during pregnancy, or if you are breast-feeding. Regular or prolonged use of Mucus cough solution during pregnancy or breast-feeding may affect your baby, so follow the advice of your pharmacist.

Please read instructions and warnings on the bottle carefully.

Ingredients:
Active Ingredient: Guaifenesin 100mg/5ml
Other Ingredients: Glucose methylhydroxybenzoate E218, Citric Acid E330, Sodium Citrate E331, Sodium Saccharin E954, Carmoisine Red E122, Caramel E150c, Cherry Flavour, Ethanol and Purified Water.