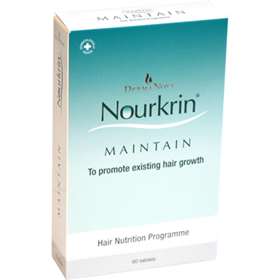 Click on image to enlarge



Price: £29.99 (incl VAT)
Sorry, this item is currently unavailable. Click here to receive notification when this product comes back into stock.
Nourkrin Maintain is part of the Nourkrin Hair Nutrition Programme - To promote existing hair growth.

Nourkrin Maintain is a protein, mineral and food supplement, containing marine extracts, active proteins, Silica and Acerola Cherry (vitamin C), produced under pharmaceutical control and suitable for both women and men.

The most popular and successful Hair Nutrition Programme has been further improved and redesigned. Users will benefit from the new, easy to swallow, low odour coated Nourkrin Maintain tablets, and among many detailed improvements to the Nourkrin formula is that it now contains not one but two sources of natural Silica and lgG which improves the environment in the digestive system, allowing for increased absorption

DermaNova Nourkrin is taken by people of all nationalities and ages to help conditions associated with thinning hair. Nourkrin Maintain is recommended by practitioners, pharmacists, salon experts and other professionals

Why take Nourkrin Maintain?
Nourkrin Maintain works best if you have already started the DermaNova Nourkrin treatment by taking Nourkrin Extra Strength or Nourkrin Man. After taking these for a period of about 6 months or once you are satisfied with the results, continue to maintain the supplementary levels by "topping up" with Nourkrin Maintain.
Nourkrin is suitable for both male hair loss and female hair loss, and in a UK survey 75% of users reported hair recovery.

Additional products:
As a part of the Nourkrin Treatment Programme, you may also like to try Nourkrin Shampoo, Conditioner and Scalp Lotion.

Dosage:
2 Nourkrin Maintain tablets to be taken per day, ideally with water after food. Take Nourkrin Maintain after completing the Nourkrin Extra Strength Programme.
Nourkrin Maintain is not recommended for those who allergic to shell fish. Nourkrin Maintain is also not recommended if you are pregnant of breast feeding.

Ingredients:
Marilex® (protein compound of marine origin) 400mg • Acerola Cherry Extract (vitamin C)250mg • Horsetail Extract 100mg • Silica Keiselguhr • Microcrystallinecellulose • IgG Protein • Magnesium Stearate • Maltodextrin • Tricalcium Phosphate • Hydroxypropylmethylcellulose • Fatty Acids • Iron Oxides • Titanium Dioxid • Flavour.