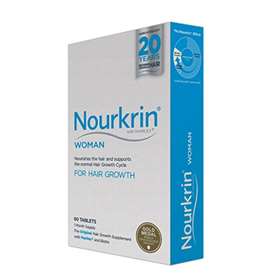 Click on image to enlarge



Price: £35.40 (incl VAT)

Nourkrin Women 60 Tablets are designed to encourage hair re-growth. Nourkrin is a natural mineral hair loss treatment. Nourkrin Women are small, low odour, easy to swallow tablets. Each Nourkrin Women pack contains 60 tablets providing treatment for 1 month.

Nourkrin Women tablets are drug free and combines a unique marine extract with ingredients such as vitamin C and silica, to enhance its uptake and effectiveness. Nourkrin Women hair loss remedy has been clinically proven. Nourkrin Women effectively reduces thinning hair and restores hair lost through alopecia and natural balding.

Nourkrin offer the complete Hair Recovery Programme to reduce hair loss and promote existing hair growth.

The most popular and successful Hair Nutrition Programme has been further improved and redesigned. Users will benefit from the new, easy to swallow, low odour, coated tablets, and among many detailed improvements to the Nourkrin formula is that it now contains not one but two sources of natural Silica and lgG which improves the environment in the digestive system, allowing for increased absorption.

DermaNova Nourkrin is taken by people of all nationalities and ages to help conditions associated with thinning hair. It is recommended by practitioners, pharmacists, salon experts and other professionals.

Nourkrin can help you...
Nourkrin is suitable for female hair loss, and in a survey of UK users 75% reported hair recovery. Nourkrin feeds the hair follicles and helps achieve normal, healthy hair growth.

Additional benefits:
Additional benefits may be felt in terms of improved skin conditions and stronger nails.

The Stages of Hair Recovery:
Nourkrin Women works in 4 stages over a 6-month period:
In the first two months it slows down and reduces thinning hair.
During month two and three it strengthens and promotes the growth of existing hair.
In month three and four Nourkrin Women promotes the growth of dormant hairs which are thin and wispy at first.
In the final two months these hairs become stronger, healthier and more vibrant.
After six months on Nourkrin Women and you are satisfied with the results you have achieved, we recommend Nourkrin Maintain.
You may also like to try Nourkrin Shampoo, Nourkrin Conditioner and Nourkrin Scalp Lotion.Dosage:
2 tablets per day for a maximum of 6 months. Ideally, one in the morning and one in the evening with food or water.

Precautions:
Keep out of reach of children and do not exceed the recommended daily dose. Not recommended for women if you are pregnant or breastfeeding. Not recommended for those who are allergic to fish. Food supplements should not be used as a substitute for a varied diet, may contain shellfish.

Nourkrin Women Ingredients:
Marilex (extract protein compound of marine origin from fish), acerola cherry extract (malpighis punicifolia), silicon dioxide, horsetail extract (equisetum arvense), d-biotin, bulking agents (microcrystakkine cellulose: magnesium stearate), glazing agents (fatty acids, glycerol).





| | | | | |
| --- | --- | --- | --- | --- |
| Product code: 2040962 | | Price: £35.40 (incl VAT) | | |