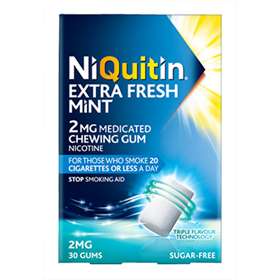 Click on image to enlarge



Price: £6.09 (incl VAT)

Quit smoking with NEW Niquitin gum

Niquitin Gum Extra Fresh Mint 4mg is a stop smoking aid for those that smoke more than 20 cigarettes a day. Using Niquitin gum at intervals throughout the day gives your body the nicotine you need to help overcome the craving to smoke, helping you Quit or cut down the amount you smoke.
Contains 4mg nicotine.
New extra fresh minty flavour.
Stop smoking aid.
Medicated chewing gum.
Sugar free.
How To Use:
Stopping smoking for short periods of time 18 years and over:
Use a Niquitin gum instead of a cigarette when you have a strong urge to smoke use a piece of gum every 1-2 hours.

Stopping smoking straight away adults and children over 12 years:
Have a piece of gum when you feel the urge to smoke use 8-12 pieces of gum no more than 15 in 24 hours for up to 6 weeks after this slowly cut down on the gum and stop when you are using 1 or 2 a day.

Cutting down before quitting adults 18 years and over:
Have a niquitin extra fresh gum when you feel the urge to smoke cutting down the amount of cigarettes you smoke, as soon as you feel able follow the instructions for quitting.

Do not use:
If you are allergic to any of the ingredients listed below.
If you are under 12 years of age.
Contact a healthcare professional:
If you have/had heart problems.
If you have a serious liver or kidney disease.
Overactive thyroid gland phaeochromocytoma stomach ulcers or other throat or stomach problems.
If you are pregnant or breast-feeding.
Please read the enclosed instruction leaflet thoroughly before using Niquitin Extra Fresh Mint Gum.


Ingredients:
Each peice of extra fresh mint 2mg gum contains: 4mg nicotine as (nicotine resinate):
The gum base contains:Butylated Hydroxyl toluene (E321), Sorbitol (E420), Xylitol (E967), Calcium Carbonate (E170), Sodium Carbonate Anhydrous (E500), Glycerol (E422), Acesulfame Potassium (E950), Sucralose (E955), Talc and Flavours.
Coating contains: Xylitol (E967), Mannitol (E421), Acacia (E414), Sucralose (E955), Carnuba Wax (E903), Titanium Dioxide, Talc and Flavours.





| | | | | |
| --- | --- | --- | --- | --- |
| Product code: NIQ79C | | Price: £6.09 (incl VAT) | | |