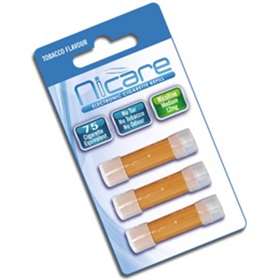 Click on image to enlarge
| | |
| --- | --- |
| Price: £4.89 (incl VAT) | Sorry, this product is no longer available. |
Nicare Electronic Cigarette Refills Tobacco Flavour 12mg contains 3 cartridges in one pack, Nicare e-cigarettes cartomisers have been designed to provide smokers with a real cigarette taste.
Equivalent to 75 Cigarettes.
Contains 3 12mg refills.
Real cigarette taste.
No odour.
Nicotine medium - 12mg.
Tobacco flavour.
Not tar or tobacco.
Directions of use:
Only to be used with Nicare Rechargeable E-Cigarettes.

Cautions:


Very toxic in contact with skin.


Keep out of reach f children.


Toxic if swallowed.


In case of an accident or you feel unwell seek medical advice immediately.
Nicare cigarettes are not suitable for children under the age of 18 or women who are pregnant/breast feeding.

Ingredients: Cartomisers contain nicotine, imitation tobacco flavouring, propylene glycol and water.