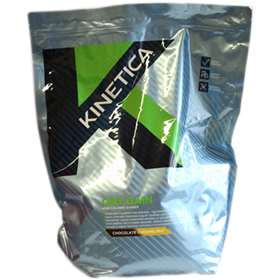 Click on image to enlarge
| | |
| --- | --- |
| Price: £69.99 (incl VAT) | Sorry, this product is no longer available. |
Kinetica Oat Gain Chocolate Caramel Nut 4.8kg is formulated to assist professional athletes with weight gain to build body mass, lean muscles and recovery from serious exercise.

Kinetica Oat Gain is designed to prevent muscle breakdown whilst ingredient Aminogen ensures speedy digestion of protein.
4.8kg powder.
Chocolate caramel nut flavour.
Over 600 calories per serving.
No added sugar.
High energy.
Free from artificial colours and flavours.
Contains milk, gluten, soya and sweetener.
Serving scoop included.
Kinetica Oat Gain is an excellent source of low GI carbohydrates and contains Biotein Xtreme whey protein enriched with organic coconut oil to help build muscle.

Directions for use:
For optimal results take 2-3 Kinetica Oat Gain shakes a day. Simply add 3 scoops of Oat Gain to 500ml of water or milk in a shaker or blender.

Precautions:
Pregnant women should consult a GP before use.
If you are suffering from a medical condition, please consult your GP.
Kinetica Oat Gain is not intended to treat illness.
Please do not exceed the recommended dose.
Keep out of reach of children.
Supplements should not be used as a substitute for a balanced diet.

Ingredients:
Carbohydrate Blend (Fine Ground Oats, Maltodextrin), Biotein Xtreme (Ultra Filtered Whey Protein Concentrate Enriched With Organic Extra Virgin Coconut Oil), Ultra Filtered Whey Protein Concentrate (Emulsifier (Soya Lecithin)), Cocoa Powder (4%), Taurine, L-Glutamine, Natural Flavourings, Vitamins (Ascorbic Acid, DL-Alpha Tocopheryl Acetate, Niacinamide, Vitamin A Acetate, Calcium-D-Pantothenate, Cyanocobalamin, Cholecalciferol, Pyridoxine HCL, Phytonadien, Riboflavin, Thiamine Mononitrate, Folic Acid), Stabiliser (Carboxymethylcellulose), Digestive Enzyme (Aminogen), Sweetener (Sucralose).


| Nutritional information | Typical per 160g serving | Typical per 100g |
| --- | --- | --- |
| Energy | 620kcal/2595kJ | 390kcal/1625kJ |
| Total protein | 46.6g | 29.1g |
| Total carbohydrate | 78.4g | 48.9g |
| of which sugars | 6.3g | 3.9g |
| Total fat | 13.5g | 8.4g |
| of which saturates | 9.7g | 6.1g |
| of which MCTs | 3.9g | 2.4g |
| Fibre | 5.2g | 3.2g |
| L-Glutamine | 3.0g | 1.9g |
| Taurine | 3.2g | 2.0g |
| Aminogen (Digestive Enzyme) | 192mg | 120mg |
| Vitamin profile | Typical per 160g serving | Typical per 100g |
| --- | --- | --- |
| Ascorbic Acid (Vitamin C) | 26mg | 32% |
| Nicotinamide (Vitamin B3) | 5.2mg | 32% |
| Tocopheryl (Vitamin E) | 3.9mg | 32% |
| Pantothenic Acid (Vitamin B5) | 1.9mg | 32% |
| Riboflavin (Vitamin B2) | 0.46mg | 32% |
| Pyridoxine (B6) | 0.46mg | 32% |
| Thiamine (Vitamin B1) | 0.36mg | 32% |
| Retinol (Vitamin A) | 260.6µg | 32% |
| Folic Acid | 65.3µg | 32% |
| Phytomenadion (Vitamin K) | 24.4µg | 32% |
| Biotin (Vitamin B8) | 16.3µg | 32% |
| Cholecalciferol (Vitamin D3) | 1.6µg | 32% |
| Cyanocobalamide (Vitamin B12) | 0.81µg | 32% |