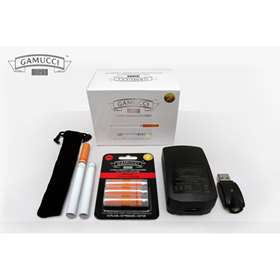 Click on image to enlarge



Price: £31.50 (incl VAT)
Sorry, this item is currently unavailable. Click here to receive notification when this product comes back into stock.
Gamucci Micro Deluxe Starter Kit is an ideal way to stop smoking, the Gamucci Delxue Starter Kit contains an electronic cigarette with four cartomizers and two high power rechargeable batteries. Gamucci products give you the same effect as a real cigarette without tobacco or tar.

Gamucci cartomizers contain vapour that releases when inhaling on the device to give you that authentic smoking effect. Gamucci Micro products are non-flammable and are designed to provide you with the same effect of smoking a normal cigarette without the harmful, addictive qualities.
High density.
Long Lasting.
Deluxe starter kit (Cartomizer Edition).
Tastes just like a real cigarette.
No Flame, tar or tobacco.
Can be used anywhere.
Each cartomizer is equivalent to 30-40 traditional cigarettes and with 4 cartomizers in the kit, this is equivalent to 8 packs of cigarettes.

Directions for use:
It's easy to use, all you have to do is inhale on the Gamucci device and it switches on. When the battery is low the light at the end of the cigarette will flash red.

Contents:
2 Hi-power rechargeable batteries, 1 USB battery charger, Mains power, Adapter, Carry case, 1 pack of cartomizers + 1 free, User manual.

Cautions:
Toxic if swallowed, not suitable for pregnant or breastfeeding women.
Not to be sold to minors.