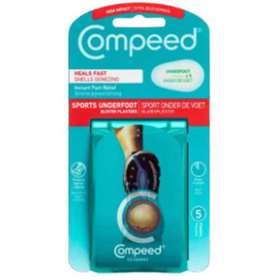 Click on image to enlarge



Price: £4.25 (incl VAT)
(Buy any 3 or more Compeed products and save 3%)
Price: £4.25 (incl VAT)
(Buy any 3 or more Compeed products and save 3%)
Compeed Underfoot Blister Plasters are specially designed for the ball of the foot and to stay in place longer even during high activity. Compeed's blister plasters use hydrocolloid technology which acts like a second skin and absorbs excess moisture to support the natural moisture balance.
Helps blisters heal faster.
Stays in place for several days.
Relieves blister pain instantly.
Protects against friction due to the thicker cushioning area.
Designed to fit the ball of the foot.
Pack contains 5 plasters.
Directions for Use:
Apply Compeed Underfoot Blister Plaster to clean dry area.
Do not touch the adhesive side of the plaster. Leave in place until it starts to come off, this can take several days. Consult doctor if you're diabetic before use.

*Full instructions and warnings are inside package, please read before use.*





Product code: 3613601
Price: £4.25 (incl VAT)
(Buy any 3 or more Compeed products and save 3%)