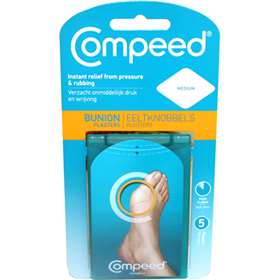 Click on image to enlarge



Price: £5.85 (incl VAT)
(Buy any 3 or more Compeed products and save 3%)
Price: £5.85 (incl VAT)
(Buy any 3 or more Compeed products and save 3%)
Compeed Bunion Plasters Medium 5 works like a second skin for instant pain relief and fast natural healing of bunions.
5 (4.7 x 6.6cm) plasters.
Hypoallergenic and moisture retaining.
Works like a second skin.
Instant pain and pressure relief.
Repels water, dirt and bacteria.
Cushions the bunion.
One plaster lasts for several days.
Discreet.
Compeed Bunion Plasters Medium 5 use hydrocolloid active gel technology to improve moisturisation of the bunion and help it heal faster.


Product code: 2685832
Price: £5.85 (incl VAT)
(Buy any 3 or more Compeed products and save 3%)