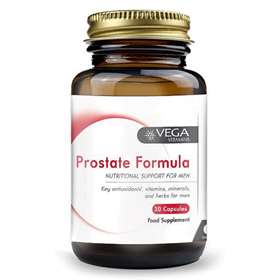 Click on image to enlarge



Price: £5.30 (incl VAT)

Suitable for Kosher, vegan and vegetarian diets.



Vega Prostate Formula provides specific vitamins and herbs that promote the health of the prostate gland and the urinary tract.

Men over the age of 50 are more predisposed to prostate problems. This formula has been designed to help and protect men with specific prostate problems including prostatitis (acute inflammation) and benign prostatic hypertrophy (BPH), where the gland gradually enlarges over time.

Vega Prostate Formula contains Saw Palmetto, extensive research has shown this herb to be one of the most effective long-term treatments for BPH.

Recommended for:

Men over the age of 50 who want to maintain good prostate and urinary health.
Men who wish to protect against or treat prostatitis and BPH.
Free from
artificial additives, colours, flavours and preservatives, lactose, salt, sugar, corn, gluten, wheat, yeast, dairy, gelatin, genetically modified ingredients, hydrogenated fats, nut and peanut derivatives.

Each bottle contains 30 V-Caps™ (green, two-piece vegetable cellulose capsule).

Recommended Dosage:
Adults One capsule each day with food or as directed by a healthcare professional.

Ingredients per V-Cap&trade:
Saw Palmetto (Serenoa Repens) Berry Extract (Standardised Extract, Min. 40-45% Fatty Acids) 150mg, Saw Palmetto (Serenoa Repens) Berry Powder 100mg, Vitamin C (as Calcium Ascorbate) 60mg, Pumpkin (Cucurbita Pepo) Seed Powder 50mg, Cayenne (Capiscum Frutescens) Fruit Powder 30mg, Parsley (Petroselinum Crispum) Leaf Powder 30mg, Niacin (Vitamin B3 as Nicotinamide) 18mg NE, Zinc (Citrate) 15mg, Vitamin E (as D-Alpha Tocopherol Acetate) 15iu 10mg α-TE, Pantothenic Acid (Vitamin B5 as Calcium Pantothenate) 6mg, Beta Carotene 4.8mg – Equivalent to Vitamin A Activity (2664iu) 800µg RE, Vitamin B6 (as Pyridoxine Hydrochloride) 2mg, Vitamin B2 (Ribofl avin) 1.6mg, Vitamin B1 (as Thiamin Hydrochloride) 1.4mg, Manganese (Citrate) 0.25mg, Chromium (Chloride) 200µg, Copper (Citrate) 200µg, Folate (as Folic Acid) 200µg, Selenium (as Sodium Selenite) 200µg, Vitamin B12 (Cyanocobalamin) 1µg, Encapsulated in a vegetable cellulose capsule with vegetable magnesium stearate(lubricant).


| | | | | |
| --- | --- | --- | --- | --- |
| Product code: 2423333 | | Price: £5.30 (incl VAT) | | |