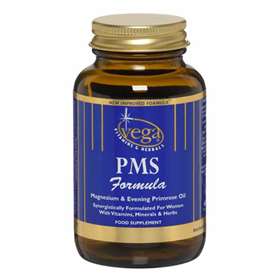 Click on image to enlarge
| | |
| --- | --- |
| Price: £5.65 (incl VAT) | Sorry, this product is no longer available. |
Vega Premenstrual Formula is a vitamin, mineral and herbal supplement designed to relieve pre-menstrual symptoms such as sugar cravings, fatigue, irritability, back pain and bloating.

Certain vitamins, minerals and essential fatty acids are crucial for efficient endocrine function (gland function) and the body in general. Iron, Folic Acid, and Vitamin B12 are particularly important for maintaining healthy blood in the body and are included in this formula.

Each bottle contains 30 V-Caps™ (green, two-piece vegetable cellulose capsule).

Recommended Dosage: Adults - One to two capsules each day with food or as directed by a healthcare professional.

Free from artificial additives, colours, flavours and preservatives, lactose, salt, sugar, corn, gluten, wheat, yeast, dairy, gelatin, genetically modified ingredients, hydrogenated fats, nut and peanut derivatives.

They are suitable for Kosher, vegan and vegetarian diets.

Ingredients per V-Cap™ :
Oat (Avena Sativa) Straw Extract 10:1, Equiv. to Herb 250mg, Evening Primrose (Oenothera Biennis) Seed Oil Powder 33%– Providing Min. 10% Gamma-Linoleic Acid)100mg, Magnesium (Oxide) 100mg, Niacin (Vitamin B3 as Nicotinamide) 36mg NE, Green Tea (Camellia Sinensis) Leaf Extract (Standardised Extract, Min. 40% Polyphenols) 20mg, Vitamin E (as D-Alpha Tocopherol Acetate) 30iu 20mg α-TE, Pantothenic Acid (Vitamin B5 as Calcium Pantothenate) 12mg, Zinc (Citrate) 7.5mg, Iron (Citrate) 7mg, Vitamin B6 (as Pyridoxine Hydrochloride) 4mg, Vitamin B2 (Riboflavin) 3.2mg, Vitamin B1 (as Thiamin Hydrochloride) 2.8mg, Beta Carotene 2.4mg – Equivalent to Vitamin A Activity (1332iu) 400µg RE, Folate (as Folic Acid) 400µg, Manganese (Citrate) 0.25mg, Chromium (Chloride) 200µg, Selenium (as Sodium Selenite) 100µg, Iodine (as Potassium Iodide) 75µg, Copper (Citrate) 50µg, Vitamin B12 (Cyanocobalamin) 2µg, Encapsulated in a vegetable cellulose capsule with silica (anti-caking agent) and vegetable magnesium stearate (lubricant).