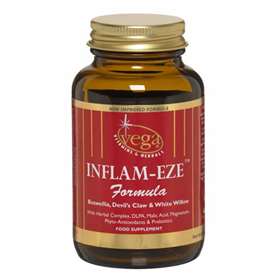 Click on image to enlarge
| | |
| --- | --- |
| Price: £7.99 (incl VAT) | Sorry, this product is no longer available. |
Vega Bromelain (formerly Inflamex) Formula 30 V-Caps is specifically formulated with natural nutrients that have powerful anti-inflammatory and analgesic properties. Unlike certain anti-inflammatory drugs such as the non-steroidal anti-inflammatory drugs (NSAIDs), long-term use of Inflam-Eze Formula does not lead to irritation of the stomach lining.

Recommended for:
People suffering from arthritis or other joint conditions.
Those suffering from injuries such as ankle sprains.
People with pain and any inflammatory conditions such as gout and IBS.
Warning:
Herbs should be used with caution during pregnancy.
Do not take this product if you are allergic to soy.

x30 V-Caps™ (green, two-piece vegetable cellulose capsule).

Ingredients per V-Cap™ :


Aloe Vera Whole Leaf Extract 2000mg • Bromelain (2000 GD Units/g) 200mg • Vitamin C (as Calcium Ascorbate) 60mg • DL-Phenylalanine (free form) 50mg • Flaxseed Powder 50mg • Malic Acid 50mg • Pumpkin Seed Powder 50mg • Niacin (Vitamin B3 as Nicotinamide) 18mg NE • Vitamin E 15iu 10mg • Zinc (Citrate) 7.5mg • Pantothenic Acid (Vitamin B5 as Calcium Pantothenate) 6mg • Vitamin B6 (as Pyridoxine Hydrochloride) 2mg • Vitamin B2 (Riboflavin) 1.6mg • Vitamin B1 (as Thiamin Hydrochloride) 1.4mg • Manganese (Citrate) 0.25mg • Folate (as Folic Acid) 200µg • Selenium 100µg • Copper (Citrate) 50µg • Vitamin B12 1µg