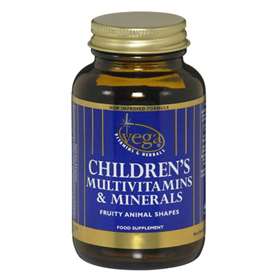 Click on image to enlarge
| | |
| --- | --- |
| Price: £3.55 (incl VAT) | Sorry, this product is no longer available. |
However hard parents try to ensure that their children eat a balanced diet it is still difficult to provide a diet with adequate amounts of all nutrients due to factors such as depleted soil mineral levels and long storage time of fruits and vegetables.

Children's Multi-Vitamin & Minerals provide a range of vitamins and minerals that are important for growth and development. The tablets are chewable, naturally flavoured and coloured animal shaped tablets (Orange, Lemon, and Cherry).

Vega Children's Multi-Vitamins & Minerals have been formulated specially for children under 12 years of age.

Recommended for:

Children with a less than perfect diet.

Over or hyper active children.

During a period of illness.

Children ungoing regular sports or exercise activity.

Children with almost any health condition to provide a boost to general nutrient status.

Please note:
Taking this product may result in a harmless dark yellow colouration of the urine indicating that the body is using Vitamin B2 effectively. An increase in daily fluid intake will bring the urine back to normal colour.

Each bottle contains 30 V-Caps™ (green, two-piece vegetable cellulose capsule).

Recommended Dosage:
Children 4-15 years old - One tablet to be chewed each day with food. Children over 15 years - Two tablets to be chewed each day with food.

Free from artificial additives, colours, flavours and preservatives, lactose, salt, sugar, corn, gluten, wheat, yeast, dairy, gelatin, genetically modified ingredients, hydrogenated fats, nut and peanut derivatives.

They are suitable for vegetarian diets.

Ingredients per V-Cap™ :
Vitamin C (as Ascorbic Acid, Sodium Ascorbate) 60mg, Niacin (Vitamin B3 as Nicotinamide) 14mg NE, Pantothenic Acid (Vitamin B5 as Calcium Pantothenate) 5mg, Vitamin E (as D-Alpha Tocopherol Acetate) 5iu 3.3mg α-TE, Zinc (Oxide) 2mg, Ribofl avin (Vitamin B2) 1.3mg, Vitamin A (as Retinyl Acetate) 3500iu 1050µg RE, Iron (as Ferrous Fumarate) 1mg, Vitamin B6 (as Pyridoxine Hydrochloride) 1mg, Thiamin (Vitamin B1 as Thiamin Hydrochloride) 0.8mg, Folate (as Folic Acid) 50µg, Vitamin D3 (Cholecalciferol) 400iu 10µg, Vitamin B12 (Cyanocobalamin) 3µg, Tableted with sucrose, carrageenan (stabiliser), vegetable magnesium stearate(lubricant), natural flavourings (cherry, lemon, orange), citric acid (flavouring), silica (anti-caking agent), curcumin (colour) and ethylmaltol (flavouring).