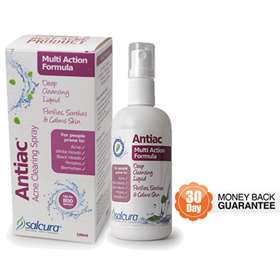 Click on image to enlarge
| | |
| --- | --- |
| Price: £11.19 (incl VAT) | Sorry, this product is no longer available. |
Please note that this product has been replaced by Salcura Antiac Activ Liquid Spray 100ml.

Click here to watch their review.
Works to eliminate spots and clear the complexion.
Specially developed for those with acne, spots, black/whiteheads and blemishes.
Is pH balanced and anti-bacterial which helps to remove toxins and spot causing bacteria.
Other ingredients help accelerate the healing process.
Completely free from: Alcohol, parabens, steroids, antibiotics, and peroxides.
Lovely, natural scent.
100ml pump-spray bottle.
Salcura Antiac has been specially formulated for teenagers and adults who are prone to spots, acne and pimples. Spots are caused by excess sebum, dead skin cells and sometimes bacteria blocking up pores. This can then cause inflammation and for many, generates puss which is unpleasant and uncomfortable.

The ingredients in Salcura Antiac are all natural and help to reduce and eliminate these impurities and by helping to oxygenate and nourish the skin. The ingredients have been chosen for their highly anti-bacterial and anti-inflammatory properties. They promote circulation, balance out the pH levels and soothe, cool and calm aggravated and inflamed skin. Skin will be left feeling clean and fresh, promoting a clear complexion.

Directions:
Firstly, shake well. Spray on to the skin and allow it to quickly absorb. Once it has sunk in to the skin, spray more Antiac on to a make up pad and gently cleanse the skin. For best results, use Antiac at least 3 times a day.
To watch a video explaining how to use Salcura Antiac please click here

Ingredients:
Aqua, Aqua Minerale/Brine, Maris Sal (Dead Sea Minerals), Melaleuca Alternifolia, Santalum Spicatum, Hippophaes Rhamnoides, Leptospermum Scoparium, Melaleuca Pilliga, Glycerine, Aloe Barbadensis.