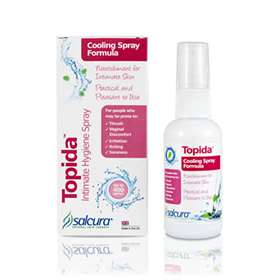 Click on image to enlarge



Price: £8.90 (incl VAT)

Completely natural, easy to use, quick working spray. Topida acts as an excellent alternativeto pharmacy medication.

Salcura Topida is an excellent solution for people prone to vaginal irritations and discomfort (i.e thrush, bacterial vaginosis and cystitis). Topida can also be used by men suffering with Jock itch (a fungal skin condition of the grion) and itchy, irritations caused from thrush.


Topida soothes and calms aggravated skin and helps to maintain a healthy microbial balance on the affected areas. Topida contains anti-bacterial, anti-fungal and anti-itch properties, which makes it ideal for sufferers of recurring thrush. This fast acting solution balances out the pH in vagina, and other important nutrients help to look after the skin's mucosa, restoring and maintaining a healthy condition.

Topida is free from:
Steroids • hormones • cortisones • peroxides • alcohol • parabens •
Offers genital comfort and hygiene.
Supports a healthy balanced microflora
Compliments treatments for conditions such as thrush and cystitis - also acts as a preventative.
Can also be used to treat jock itch
Relieves the symptoms of penile thrush.
Calms and soothes irritated skin.
Contains anti-bacterial and anti-fungal agents.
Not tested on animals.
Easy to apply 50ml pump-spray bottle.

Directions for use:
Shake to ensure the mixture is completely blended.
Spray Salcura Topida generously onto the affected area 2 or 3 times a day.
Additional applications may be administered if desired.
Allow the solution to be completely absorbed.
Other treatments will not be needed.

Caution:
Keep out of reach of children.
Avoid contact with eyes.
Store in a cool place.

Ingredients:
Aqua multi-vitamin Solution, Aqua multi-mineral Solution, Melaleuca Alternifolia, Santalum Spicatum Leptospermum Scoparium, Melaleuca Ericafolia Leptospermum Petersoni, Cinnamonium Zeylanicum, Olea Europaea, Calendula Officinalis, Lavendula Augustifolia, Thymus Vulgaris, Allium Sativum, Faeniculum Vulgare, Mentha Arvensis, Glycerine, Zeolith.




| | | | | |
| --- | --- | --- | --- | --- |
| Product code: 3604071 | | Price: £8.90 (incl VAT) | | |