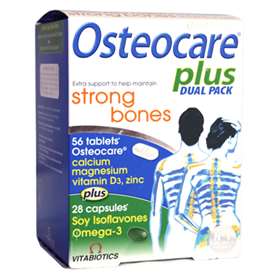 Click on image to enlarge



Price: £9.99 (incl VAT)

Osteocare Plus Dual Pack

Osteocare Plus combines the original Osteocare tablet with Soy Isoflavones and Omega-3 capsules in one convenient pack!
Advanced support for strong, healthy bones- Osteocare Plus provides the RDA of Calcium & Magnesium.
For men and women of all ages.
The pack contains 56 Osteocare tablets plus 28 Soy Isoflavones & Omega-3 capsules.
NO gluten, lactose, preservatives, salt or yeast.
The balanced formula of Osteocare Plus provides the Recommended Daily Allowance of Calcium and Magnesium to help maintain strong bones and teeth. Other nutrients such as Vitamin D3, Zinc and Omega-3 also help to maintain the health of the heart, muscles, and nerves too! Osteocare Plus contains a range of nutrients to promote bone health:
Calcium is vital for people of all ages as it contributes to greater bone strength.
Magnesium is essential for strong bones, a balanced metabolism, good nerve and muscle function and for maintaining a healthy heart and liver.
Vitamin D contributes to normal bone growth and development by helping the bones to absorb calcium. It also produces the hormones that maintain healthy calcium levels in the bones.
Zinc helps the regeneration of bone and maintains healthy muscles and nerves.
Soy is rich in isoflavones which have been linked to the maintenance of bone health.
Omega-3 fatty acids maintain joint and bone health as well as keeping your heart healthy.
Vitamin C has been shown to contribute to the formation of bone and collagen.
Directions:
Take two Osteocare tablets and one Isoflavone capsules with water per day. Take with a main meal. Do not chew.

Not suitable for vegetarians.

Nutritional Information for Osteocare Tablet:
vitamin D (as D3 200iu) 5µg • Calcium 800mg • Magnesium 300mg • Zinc 10mg • Copper 1000µg • Manganese 0.5mg • Selenium 50µg • Boron 0.6mg.

Nutritional Information for Isoflavones Capsule: Soy Isoflavones 100mg • Omega-3 350mg • DHA 175mg &bull EPA 35mg • vitamin D (as D3 400 IU) 10µg • vitamin C 100mg.





| | | | | |
| --- | --- | --- | --- | --- |
| Product code: 3353109 | | Price: £9.99 (incl VAT) | | |