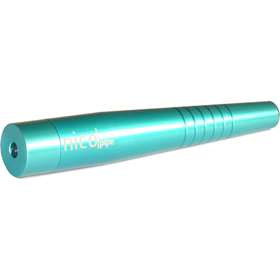 Click on image to enlarge



Price: £12.51 (incl VAT)
Sorry, this item is currently unavailable. Click here to receive notification when this product comes back into stock.
Was: £17.62, Was: £15.89 Now: £11.99

The Nico Pipe Inhalator is an excellent replacement to cigarettes, for those who are trying to cut down or quit and those who may be restricted by the non-smoking law.
Light weight and smooth to the touch.
Sleek and beautifully crafted.
Helps to wean yourself off tobacco.
Simple to use.
Can be used when ever you want, where ever you want.
Uses normal nicotine refill cartridges (Nicorette).
How does Nico Pipe Work?

Nico Pipe comes in two parts which can be unscrewed. Once opened, the nicotine cartridge is popped into the pipe and then screwed closed to pierce the cartridge. Then it is ready to go. Simple!

All you need to do is take a drag of the Nico Pipe in the same way you would inhale the smoke from a cigarette. One refill cartridge will last for approximately 20 minutes of continuous intake. Depending on your smoking habits, you may only need to use 2 or 3 cartridges a day. Do not use any more then 12 cartridges a day.

Contents:-
Nico pipe comes in a protective metal container.